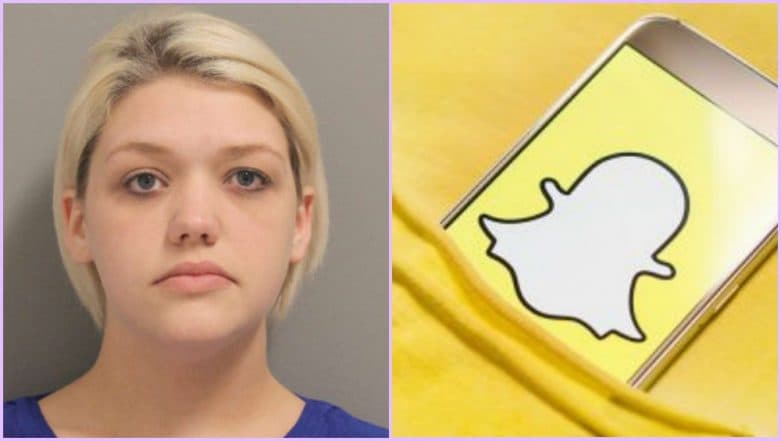 A teacher in Texas has allegedly sent video of herself engaged in sexual activities to her student through Snapchat. The perpetrator, whose Snapchat username is "Momma K" has sent the clip of her masturbating to a 15-year-old male student, reveals the court document. She was a teacher at Paetow High School and the report further confirmed 25-year-old Kelsie Koepke has been fired from her job after the accusations. Koepke reportedly exchanged Snapchat information with the student around October 2017 and began to chat with him in the weeks before Homecoming.  Arizona Teacher Allegedly Performed Oral Sex With Her 13-year-old Student in School. 
The conversations between the student and the teacher soon took a sexual turn. She reportedly instructed the teenager not to save any of their chats. "Then, on the actual night of the homecoming event, she sent him the first set of nude photos and videos of herself," reads the court's documents. Although she apologised to the victim for sending him such explicit content on homecoming day, evidence revealed that she continued to send him inappropriate pictures and videos, including a clip of her masturbating. When asked by the investigators, Koepke said she had mistaken the student for some else whom she previously met on a dating website. California Teacher Forcibly Cuts Student's Hair in Classroom Singing Wrong Lyrics of the US National Anthem. 
The accused also told the investigators that she sent the videos and photos in question to a few different people. The court's documents and media reports further hinted that the school officials learned of the alleged relationship from another student who "noticed a conversation on social media regarding inappropriate content," being shared between Koepke and a student. "The district took immediate action and removed the paraprofessional from the classroom and later that day the employee was terminated from Katy ISD," school principal Mindy Dickerson wrote, as accessed by several media outlets.
The investigation on the matter is undergoing. Koepke is expected to face the judge on May 7, 2019. However, a bond of 30,000 dollars was set for her. The school authorities stated in their letter that they are fully cooperating with law enforcement regarding the matter.