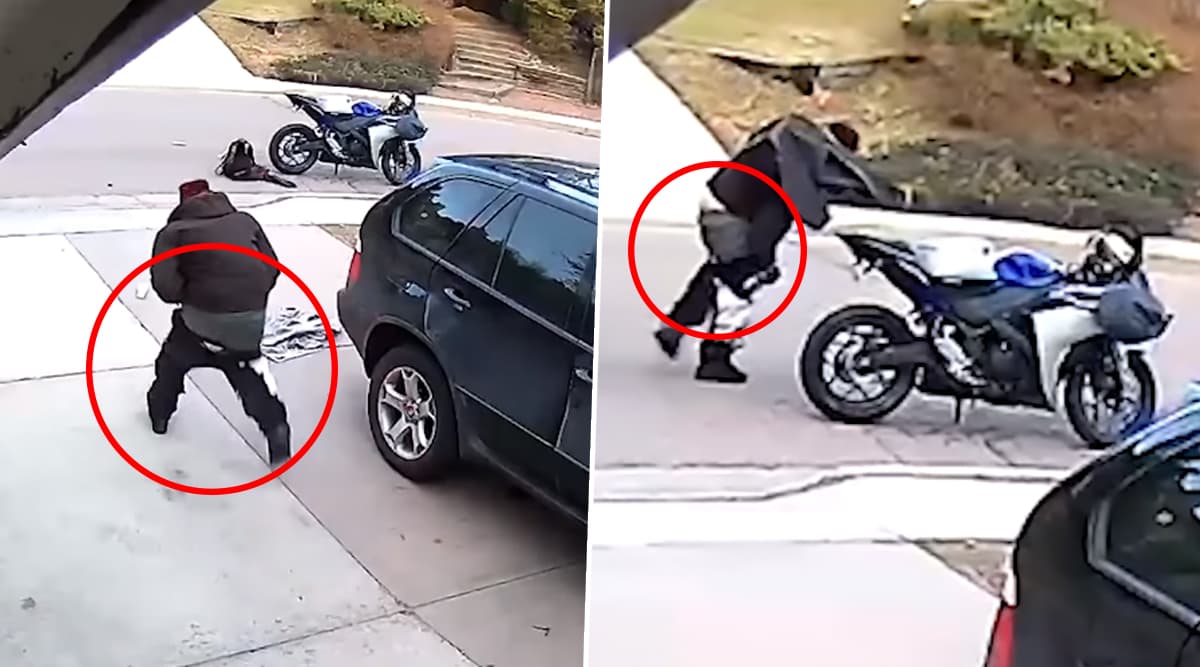 A thief's attempt at stealing a package from a front porch of a home in also robbed him of his integrity as he suffered a wardrobe malfunction. The incident took place in Colorado Springs when a thief was running away stealing an Amazon package from the corridor of a house. But while he headed to his bike his pants fell down and he faltered. The funny incident has been caught on a security camera and the footage is going viral. 7 Robbery Attempts Gone Wrong That Give Thieves Everywhere a Bad Name (Watch Videos).
The video shows that the thief had come on a motorbike. He stopped in front of a house and ran to collect the package that was on the porch. While he ran back to his bike, some of his items fell on the ground. And while he ran back to pick them up, his pants came down. His pants came down until his knees and he faltered down. But after all that he still ran away with the package. The entire episode was caught on the security camera. Man Who Robbed Woman at ATM Returns Her Money After Seeing Zero Balance (Watch Video).
Watch Video of Theif Suffering Wardrobe Malfunction While he Ran Away:
The stolen package had some Christmas goodies and gifts for the family. The house owner Mr Paul who got robbed told Newsflare, "He stole some clothes from Amazon and a gift package with a birthday gift for me and a Christmas gift for my son from my parents. Initially, I was pretty angry, after watching the video a few times I almost feel sad for the guy, his life is clearly not going very well for him." But he also mentioned that the authorities need to try and catch hold him and punish him.
An exactly similar thing happened in Colorado once, where a thief tried to steal using a toy gun. A man wearing a red ball cap, sunglasses and a Denver Broncos sweatshirt tried to make a theft but when his toy gun fell off, he tried to run and his pants fell off.