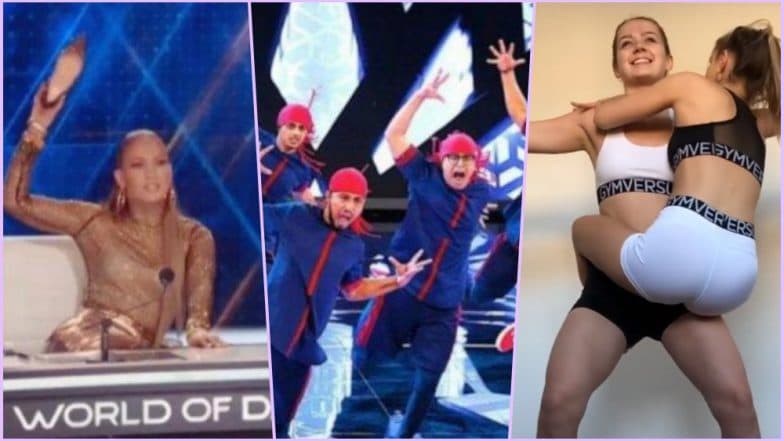 Another week has gone by, and we come here again to enjoy our favourite weekend time. It is time to either sleep all day, binge on Netflix, a short trip with bae, or going out to party all night, anything, but not time-bound work, is what we love about the weekend. Apart from going all lazy, it is also time to look back and give credits to those videos that went viral insanely, captivating us on the long stressful working days. A lot has happened this week, like any other weeks. With the viral Momo challenge resurfacing online and tension between India-Pakistan, every bit of such news captured netizens attention throughout. Amid increasing tensions, there were these light-hearted clips that kept the smile constant, soothing people online to meet the boss's deadlines. Here is a throwback of Jennifer Lopez hurling shoe on Mumbai dance group to viral Instagram Koala Challenge, 7 videos that surfaced on social media.
It all began with the smart cat opening locked doors like a pro which led pet owners to share their experiences, explaining how intelligent felines are than we think. Above all, it was the moment when Jennifer Lopez hurled her shoe at a Mumbai dance group, as a sign of respect for the performance, that stole all the attention. The Internet just went awestruck with the thrilling dance performed by the Mumbai-based dance group, The Kings. Without any further delay, let us look back to the top seven videos that were everywhere on social media that once again brought the netizens together.
Smart Cat Opening Bathroom Door
My roommate's cat is always breaking out of her bathroom. I set up this hidden camera to find out how...and y'all....i- 😂💀 pic.twitter.com/AUDN9IWPNE

— aliyah (@steeleio_) February 21, 2019
It is a known fact that cats are super-smart than anyone can think of. Leave them behind a locked door and wait for the surprise. When a criminology student Aliyah Steele shared footage of her roommate's cat unlocking the bathroom door and going out, other pet owners saw it was their time to share moments of similar experiences. And there you go! Smart felines opening locked doors, surfaced on social media, with netizens go ROFL.
Viral Koala Challenge
View this post on Instagram
Yes, it has been a long time that we haven't seen social media users coming up with any bizarre challenges. Hence, netizens welcome koala challenge, which seemed to have originated in Australia. It involves one person climbing their partner as if they were the animal and their partner a tree. Yes, many were successfully performing this crazy Instagram challenge.
Overweight Rat Rescued by Firefighters
Well, this little one was too overweight to come out of the drain cover. It was no less than a severe mission of nine firefighters arriving together to save this chubby in the German town of Bensheim. It was a horrible moment, as the rat got stuck into the manhole cover, left in distress, breathless. Thankfully, the firefighters managed to free the rodent from the tiny gap before moving it into the sewer safely.
Rescue Duck with Disability Gets A Customised Tiny Wheelchair
The bird was born with a physical disability. Neither could it wad in water or walk properly. Goats of Anarchy Sanctuary in Annandale, New Jersey adopted the duck last year in November. Seeing the duck named Merlin's condition, the sanctuary decided to give the bird a new life. They contacted Walkin' Pets which customises tiny wheelchairs for animals' requirement. The majorly make wheelchairs for cats and dogs. Engineers, who worked really hard to give the duck a new life, made this little wheelchair which successfully adjusted Merlin's physique.
Plastic Surgery Done on 'Ugly' Pet Cat
Alright, this was the most painful video that the internet came across this week. This pet owner from China took her cat to get plastic surgery done on her face because to her the feline was "ugly." Seriously? The cat underwent a double-eyelid operation, which is believed to have cost the woman 10,000 yuan (above Rs. 1 lakh). The pictures look horrific—the cat's eyes look red and swollen, and one can see stitches on each of the cat's eyes. The woman was slammed for animal abuse for giving such pain to the innocent cat.
Jennifer Lopez Throws Her Shoe at A Mumbai Dance Group
This act stole the netizens' attention. No, it is not Jennifer Lopez this time, but this talented Mumbai-based dance group, The Kings, whose spectacular performance left the internet awestruck. At the American reality show, World of Dance 2019, The Kings managed to pull off an incredible hip hop performance on one of the popular A R Rahman song, the title track of Yuva. The power-pack performance was such a top-notch that Jennifer Lopez who is one of the judges on the show, threw her shoe on stage as a sign of respect.
Father Pains Fake Eyelids to Trick His Baby
It is not easy to raise kids. All parents out there can exactly to relate to instances of toddlers' sleep routine. Many do not like it if they realise their parents have fallen asleep so they will wake them up too. And it can happen any time during the day and in the middle of the night. So, this father has a smart plan. He tricked his baby by painting his eyelids exactly to resemble eyes, to ensure the little one that he is not sleeping. The clip is a part of a video compilation on dad duties, and internet is in love with this creative father.
That is, it for this week. There were a lot of other videos too, but the above ones gained millions of views on the internet, which is why they are on the list of top seven viral clips. As nasty sometimes internet could be, the platform is also fantastic for such creative and informative moments to be shared at the same time. Use the internet wisely and have a nice weekend!