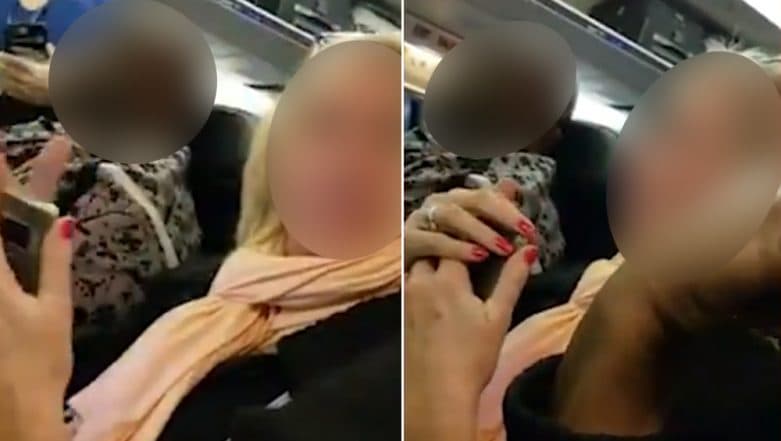 Arguments in flights have become a common thing these days. Economy class in flights are a little uncomfortable and sometimes it witnesses rude behaviour. But this woman took things a little further and called two big people sitting beside her, "two big pigs." The woman began her diatribe against the two people, one of whom was recording the whole scenario. The now viral video captured how she went from ranting about the two people to ask others to try sitting beside them. The rude flyer, when retaliated by other passengers, said, "Why don't you try and sit between those two pigs?" Cancer Patient Endured Fat-Shaming by Doctors, Writes in Her Tragic Obituary.
She was kicked out of the United Airlines flight after her meltdown. The passenger who was subjected to the abuse posted the video on the internet. The two passengers, Norma Rodgers and Mckinley 'Mac' Frink were flying on a United flight from Las Vegas to Newark, the USA on 2 January, when they were subjected to the verbal abuse. She can be heard complaining, "I can't sit here because they're both so big on left and right. I can't even sit here." Rodgers, however, responded to the abuse saying "B***h, kiss my fat ass."
The other travellers try to confront the blonde woman while Rodgers can be heard asking where she can report the woman. Rodgers further says, "I am not starting my new year off with this kind of negativity." Rodgers posted the video to Facebook with the caption: "My old days would have been to beat the b***h's ass. The politically correct Norma called to speak with supervisors and asked that she be moved."
Take a look at the video of the woman fat-shaming other passengers on a United Airlines flight.
People watching the video are extremely disgusted. "Disgusting human being. She is not exactly a size 2. How rude. If she was uncomfortable there are classier ways to have handled the situation," someone commented.