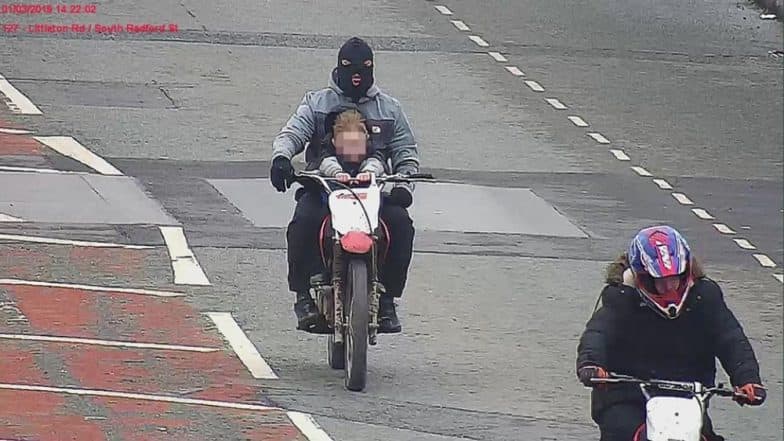 UK police are in search of a biker who was caught performing stunts as a young child sat on the fuel tank. The incident which was caught on CCTV shows a balaclava-wearing man riding a bike while a child without any safety measures sits in front of him. The picture shows the child, around four years of age sitting tightly gripping the bike's handle. According to Manchester Police, a caller told them that the biker was performing wheelies with a child onboard.
The photo going viral on social media shows the man with one hand on the accelerator and the other on his lap. Sharing a photo of the rider in a Facebook post, Greater Manchester Police wrote, "The caller raised concerns about one of the riders who they witnessed speeding and pulling wheelies while having a young child sat on the fuel tank." Chinese Father Forcefully Takes Reluctant Daughter to School by Tying Her on Bike, Video Goes Viral.
Police arrived at the scene on Saturday, but the man was not seen. Manchester Police have now asked people to help them with any information on the man. "Officers attended but the riders had left. A trawl of CCTV identified two men – one who was donning a balaclava - riding bikes on Littleton Road about 2.20pm," it further reads.
Here is the photo of the incident which was caught on CCTV:
PC Steve Williams, from GMP's Salford division, was quoted as saying, "Although you can't see the men's faces, I'm hoping someone might recognise the bikes or know who is behind the mask. So please take a long look at the images. Their actions were brazen and reckless, not only putting themselves and other road users in danger but they also put a young child at risk. He added saying, "Anything could have happened and ultimately this could have had devastating consequences, not to mention we understand the concerns the use of off-road bikes raise in communities."