Do you like to be gifted flowers, especially on Valentine's Day? If that's a yes ensure your partner knows you like a blossom and not a cauliflower. A person gifted his significant other chocolates and cauliflower as Valentine's Day presents. And a card sitting next to it requests the person to make Gobhi Ka Paratha. The note says that while the flower may not be the orthodox flower, it has a 'function premise'.
The note reads: 'Hey, I hope you have an awesome Valentine's Day. This flower may look unorthodox but it has a function premise. Please make me some Gobhi Ka Paratha. Love you.' The photo which was shared on Reddit has gone viral much to the amuse of social media users. It was shared with the caption: 'I hope she likes it.' Valentine's Day 2019: American Mother Roams Son's University Campus to Find a Find a Girl For Him (Watch Video)
Here is the Reddit post: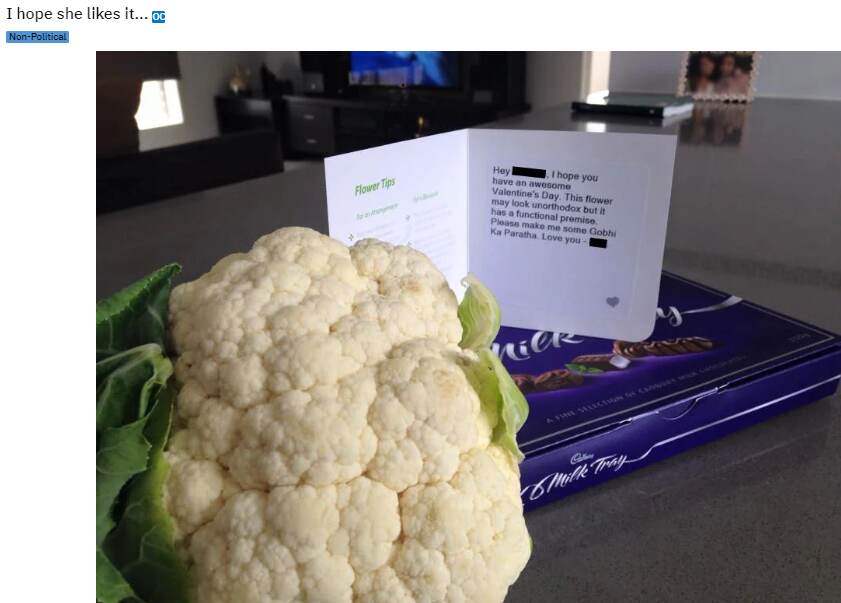 As the post went viral, it garnered a lot of hilarious reactions on social media. One of the comments read: 'Very brave OP, let us know if you need an ambulance soon'. Another reads: 'I am early waiting to see your wife's reaction on this Valentines Day Gift.' Somebody commented: 'I would have given this to my cook but she is on leave today.' Best Valentine's Day 2019 Gifts Under Rs 500: Budget-Friendly Presents for Boyfriend-Girlfriend or Husband-Wife.
While some thought it was a smart move, others thought the woman deserved real flowers. We are not sure how the receiver reacted to the cauliflower. The user hasn't updated any pictures of Gobhi Ka Paratha yet. We hope the couple had a great Valentine's Day!