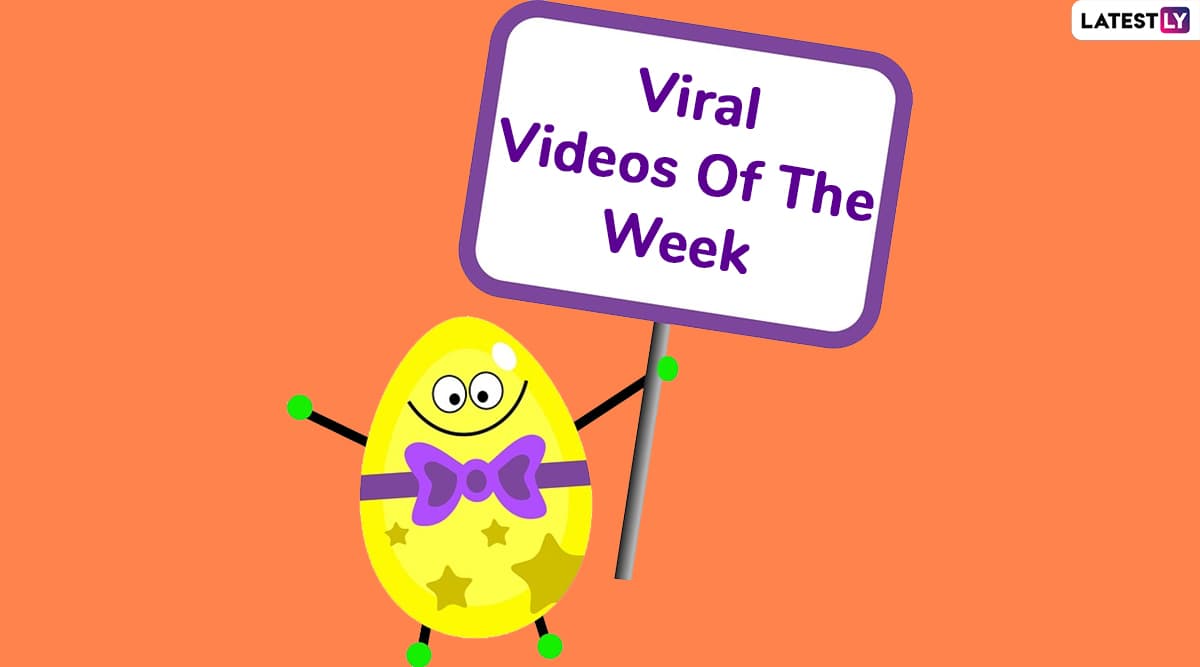 The weekend is here, and so are the videos. At the end of every week, we religiously look back to all the viral moments that captivated the netizens, or at least helped them to move on amid the eventful time. It is a struggle to survive a whole work week. Without social media, we don't think it would be nearly possible for the millennial generation to brace the weeks. Hence, it becomes important to give credits to all those moments that kept us engaged when we needed a break from the stressful hours. Some of the clips are disheartening and outrageous, others are simply adorable, and you can spare all the world's time to keep a tab. For viral videos of this week, we have clips from around the globe. Georgian Journalist whose butt was groped on live TV to pigeons wearing cowboy hats, let us look at the seven clips that took the internet by storm.
1. Georgian Journalist's Butt Groped on Live TV:
To the man who smacked my butt on live TV this morning: You violated, objectified, and embarrassed me. No woman should EVER have to put up with this at work or anywhere!! Do better. https://t.co/PRLXkBY5hn

— Alex Bozarjian (@wsavalexb) December 7, 2019
Journalist Alex Bozarijan was covering a running event in Savannah where participants were racing, dressed in costumes. She was shocked when a runner just groped her butt, while she was reporting live and ran. But he couldn't run far. Thanks to the power of social media, the pervert was identified as Tommy Callaway, who is a church minister from Statesboro.
2. Python, Honey Badger and Two Jackals Fight for Survival:
Python, Honey Badger and two jackals engaged in a dramatic fight, which has been captured in the video. The incident is from Chobe Park in Botswana, South Africa. The end of the clip shows the honey badger proved its strength fending off the two jackals and taking away the dead snake into bushes.
3. Google India's Ad Featuring Female Sports Stars:
With the help of this video, Google aims to help all the athlete enthusiasts in India, to achieve their dream. The campaign called "With A Little Help," video features sports stars like Pooja Bishnoi, Naina Jaiswal, Hima Das and many others to take inspirations from.
4. Man's Deadly Fart Can Kill Mosquitoes:
48-year-old Joe Rwamirama from Uganda claimed that his fart is so deadly that it can kill mosquitoes six miles away. He credits himself for the fact that nobody in his home village has ever contracted malaria. Now Joe wants to sell his fart to insect repellent companies.
5. Pigeons Wearing Cowboy Hats:
Someone is putting tiny cowboy hats on Vegas pigeons. There are consequences to legalizing marijuana. pic.twitter.com/CdK06gauYQ

— Las Vegas Locally 🌴 (@LasVegasLocally) December 7, 2019
A video of two pigeons wearing cowboy hats surfaced on social media, confusing netizens what it is actually about. The birds were spotted between McCarran international airport and the University of Nevada. It was later pointed out that the hats were stuck to the heads of the pigeons.
6. Physics Professor's Experiments Go Viral:
Y'all need to see this video collage of all the crazy things my Physics Professor did this semester😭. He's in his 70s and is still doing all of this for us🥺💛 pic.twitter.com/JaICjzVB5I

— Erica✨ (@its_riccaa) December 11, 2019
This 69-year-old Physics Professor, David Wright's experiments have gone viral. One of his students hence, decided to film his classes that show his dedication to make the lecture entertaining while he discusses scientific principles.
7. Man Quick Move Saved Pomeranian:
!!!! pic.twitter.com/OL5NL0ZBzb

— Johnny Mathis (@Johnnayyeee) December 10, 2019
The dog's leash was caught in an elevator. A lot of things could have happened to the pooch. But thanks to the man's quick and spontaneous move, that the Pomeranian was saved. The footage showing the dramatic rescue in Houston, Texas surfaced online.
These are the top seven videos that have gone viral on social media. We eagerly wait for the upcoming week to unveil many moments for us. Till then, enjoy your weekend!