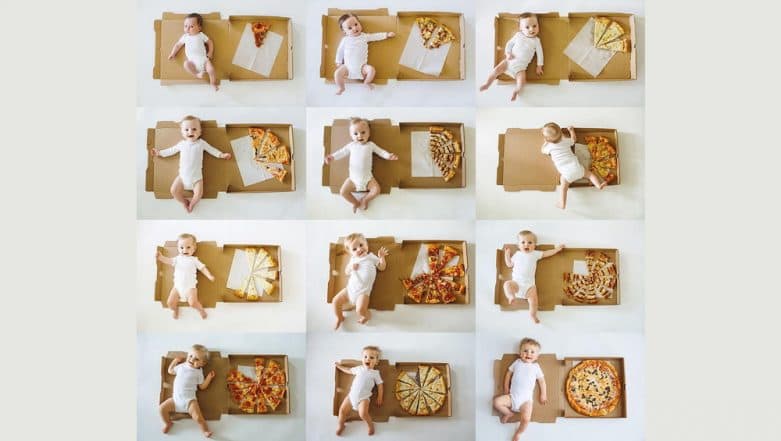 Baby photos have become so creative these days. Open Instagram, and you'll see so many beautiful baby pictures to treat your eyes. One of the most popular types of baby pictures is baby's monthly milestone pictures. Parents are using creative ways to document the 1st year growth of the baby. A recent monthly milestone photo of a baby is a dight for all the food lovers. The baby's monthly growth is shown with pizzas on the side, denoting every month with increasing slices of pizza. The mother behind the baby pictures, Dani Leigh Giannandrea's had done a monthly milestone photo with her first baby as well, except it was using a suitcase. But with her 2nd one who was born last February, she wanted to do something different and went ahead with the pizza idea, she explained in a conversation with PopSugar.
Take a look at the picture:
Here are some other baby monthly milestone pictures you can take inspiration from:
Try this if your baby hasn't been born yet!
View this post on Instagram
Cute way you can document your baby's age!
View this post on Instagram
Coming out of a cup...
View this post on Instagram
This calendar monthly milestone report
View this post on Instagram
Super cute!!!
View this post on Instagram
Documenting the baby's development is one of the most precious memories a mother can have. Various photographers and parents are striving towards coming up with better ideas every day. The pictures are truly a memory to cherish.