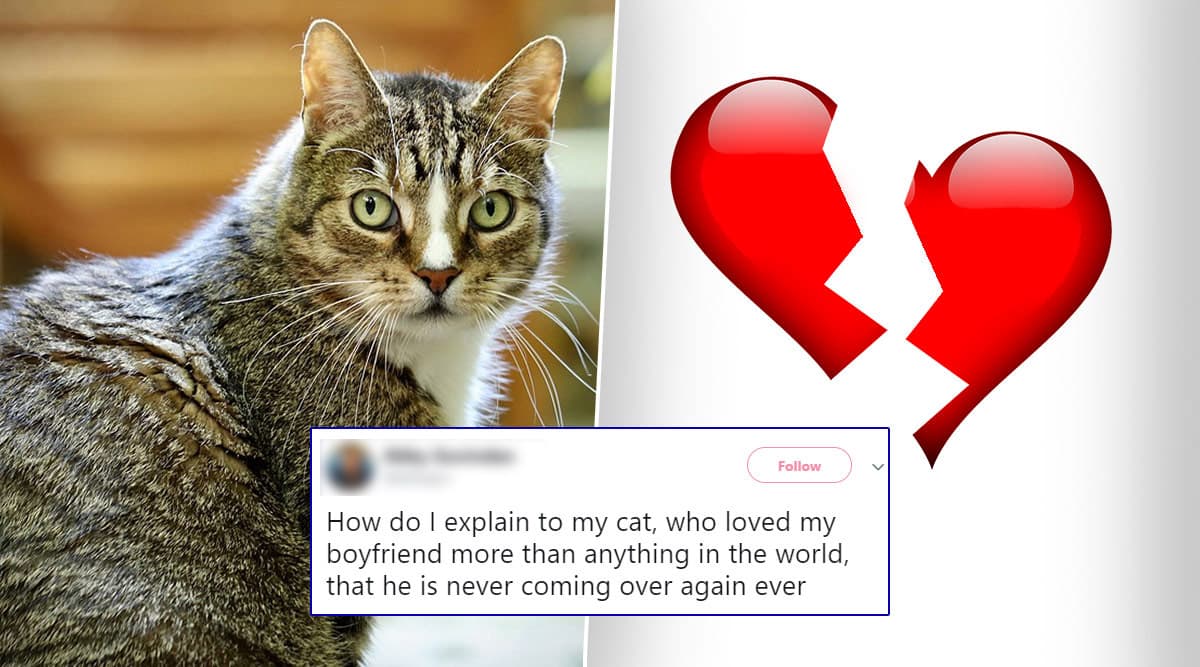 Breaking up is hard. But it can be more difficult for pets too. They easily get attached to your significant others and always looks forward for their visits. But when it is reduced, they go through a major heartbreak. A woman has been experiencing the same lately, after his boyfriend, whom she dated for seven months, dumped her. Twitter user, @abbygov, shared her first thought post break up, asking her followers for help on how she can tell the pet that the guy is not going to visit them anymore. Twitterati was quick to come to her rescue! To her surprise, many had shared similar experiences with her. She was shocked to see the viral attention she got for her post, and many animal owners could relate to the dilemma. Katryn, The Cat Who Adopted Four Puppies After Losing Her Kittens and Grieving for Days, Goes Viral For Nursing and Sleeping With Them. 
A writer and comedian, the girl, identified as Abby Govindan from Houston, Texas, had a relationship with her boyfriend for about seven months. After her tweet gained massive attention, Abby was interviewed with BBC, where she admitted that she was more of a dog person and the cat was rescued a year ago. She said that the feline provides her emotional support. She tweeted, "How do I explain to my cat, who loved my boyfriend more than anything in the world, that he is never coming over again ever." Loki, The 'Vampire' Cat Goes Viral For Her 'Evil' Looks. 
Here's the Tweet:
How do I explain to my cat, who loved my boyfriend more than anything in the world, that he is never coming over again ever

— Abby Govindan (@abbygov) January 12, 2020
Her tweet has received a massive number of reactions. Netizens and pet owners alike shared similar instances that they had experienced after parting from their partners. Twitterati shared their own tales of handling breakups with animals.
Twitterati to the Rescue:
I gave my ex my cat of 8 years because I couldn't bare to be the one who separated that dynamic duo lol 😔 she liked him so much better than me anyway but I miss her everyday

— Silky Johnson, player hater of the year 2002 (@ashblartmallcop) January 12, 2020
With Time, They Will Move On Too!
My relationship has been held together 85% for our pets. He had one dog and our cat and I have our other dog. They get severely depressed when they're not seeing the other one. We can't do that to them so we keep working on it. pic.twitter.com/efcSVgSTiN

— amand-ugh (@AmandaLiinds) January 12, 2020
This is Heartbreaking!
This was our cat when our roommate had moved out. She would constantly go to her old room and just meow. She was so attached to her it was heartbreaking pic.twitter.com/AKsZHj6Wry

— Ruben (@Rubaiin) January 12, 2020
LOL:
Show a pic of him to the cat, then light it on fire

— Dana Somethingorother (@hentaisquidward) January 12, 2020
We can clearly understand how the pet must be feeling for not seeing her favourite person for quite a while now. It can be devastating for them. With time, we hope that the cat overcomes with the decision and get backs to her joy self with her owner Abby.