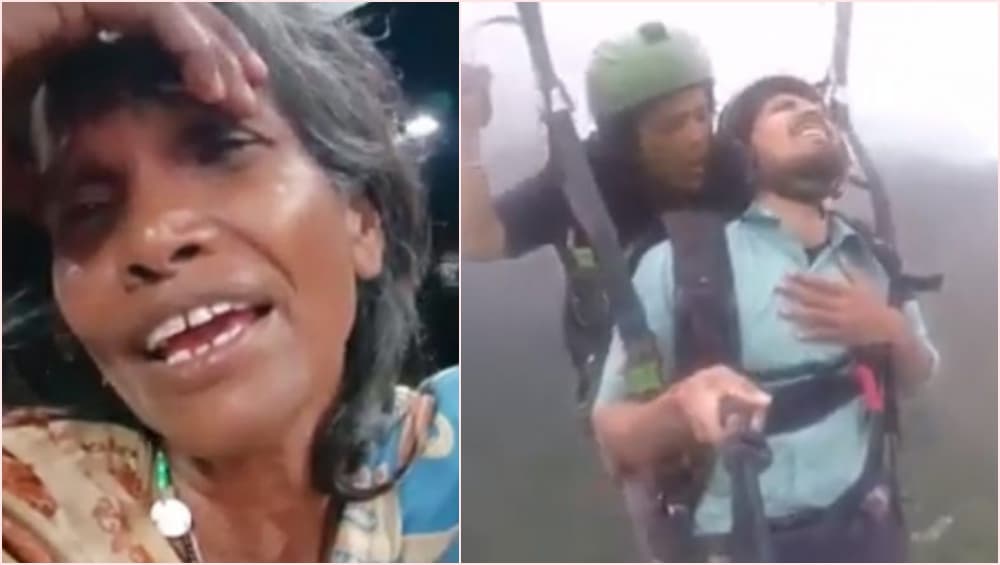 Gone are the days when entertainment was primarily limited to watching television. And 2019 can be called the year of internet. We have seen an evolution, be it among meme creators or viral video-making moments. So many things happened this year, and thanks to social media, we have seen talents getting acknowledgement, and gradually paving the way to popularity. Ranu Mondal is a great example! Throughout the year, desi internet users came across various clips which were mind-blowing. We laughed our heart out watching some videos, while a few of them caused rage and others simply touched us with their adorable content (baby videos are counted loud, here). As we approach the end of 2019, it is time for the year-ender content. From Ranu Mandal's rendition of "Ek Pyar ka Nagma Hai," to Vipin Sahu's "Land Kara De" cuss-filled moment, watch out seven desi videos that ruled social media this year.
1. Ranu Mondal: 
The first video on the list has to be the soothing voice of Ranu Mondal singing the iconic song "Ek Pyar ka Nagma Hai." Her rendition to Lata Mangeshkar's hit touched millions of hearts and also the famous music directors in the Indian Cinema. At the time, Ranu surely did not imagine that her song at Ranaghat Station will lead her to fame. The video landed on social media at the end of July, this year. The woman then bagged an opportunity to sing songs for Himesh Reshammiya's film, Happy, Hardy and Heer.
2. Monkey Washing Clothes in Desi Style: 
Contagious behaviour. Learning to do from seeing it done by this primate is extremely amusing 😊😊 pic.twitter.com/vyBBRvmAyQ

— Susanta Nanda IFS (@susantananda3) August 2, 2019
Monkeys and humans share similar traits. And people who needed some clarification got the answer when a video of a monkey, washing clothes in typical desi way surfaced. The primate so accurately washed the cloth, that it will make you doubt yourself with the skill of washing clothes. It dips it in the water kept in a vessel nearby, picked it up and "Dhobi Pachad" the cloth.
3. Indian-American Girl Drinking Tequila Shots: 
It was at this moment that my parents decided they were sending me back to India pic.twitter.com/MQ64wuYESO

— Misha Malik (@MishaMalik138) March 18, 2019
It was the Indian-American girl Misha Malik's birthday. She was spending that night with her parents. The waiter got a glass of tequila shot, instead of dessert that the mother otherwise expected. Misha grabbed the opportunity and took a shot and even squeezed a lemon into her mouth. In follow up tweets, the girl revealed that her mother was so shocked and upset that she decided to send back to her home country. Nothing like an Indian parent's reaction to seeing their child drinking shot like a pro. Desi netizens reacted majorly to the clip, with some sharing similar experiences.
4. 'Land Kara De Bhai': 
This paragliding video takes the cake! There was nothing better than this clip surfacing on the internet. People could relate to so many moments with the guy's "Bas Land Kara De Bhai," line. He became an overnight sensation, later identified as Vipin Sahu who was paragliding in Kullu. Memes, reactions, you name it, everything hilarious was relatable to Sahu's paragliding moment.
5. Monkey Shuts Tap After Drinking Water: 
What a beautiful message for humans! pic.twitter.com/wTgK4b9uGF

— Dr. S.Y. Quraishi (@DrSYQuraishi) August 1, 2019
Monkeys were ruling this year, reminding humans to behave! The video surfaced amid Chennai water crisis that was a wake-up call for Indian cities. After drinking water from a running tap, the monkey shuts it and leaves the spot. What a responsible primate! It unintentionally gave a vital message to all the humans across.
6. Desi Mukbang: 
This is not the mukbang video that any of us would want to see. But he did it! The man identified as Ulhas Kamathe took to TikTok as he binges on some "chicken leg piece" and "chicken kabsa rice." Half the food he was eating seem to come out of his mouth. Who eats like that? Seemingly someone desi, who doesn't give any damn, especially how he appears in the camera and instead enjoy the food.
7. Onions Are the New Currency: 
People in India are extremely frustrated with the insanely increasing rate of onions that are being sold in the market. Some of the citizens have stopped including the vegetable on their diet, given the soaring rate. Taking a dig at the current economy, these TikTokers used the bulb as coins. The clip features a rickshaw driver and his customers making transactions in onions. If nothing works out, people might take this exchange seriously.
There were a lot of other videos that made round on the internet. But these were legit content that was humorous and captivating at the same time. Before we happily bid adieu to the year 2019, this recap of the top seven videos was necessary. We are so excited to witness what the coming year has to unfurl in terms of viral moments.