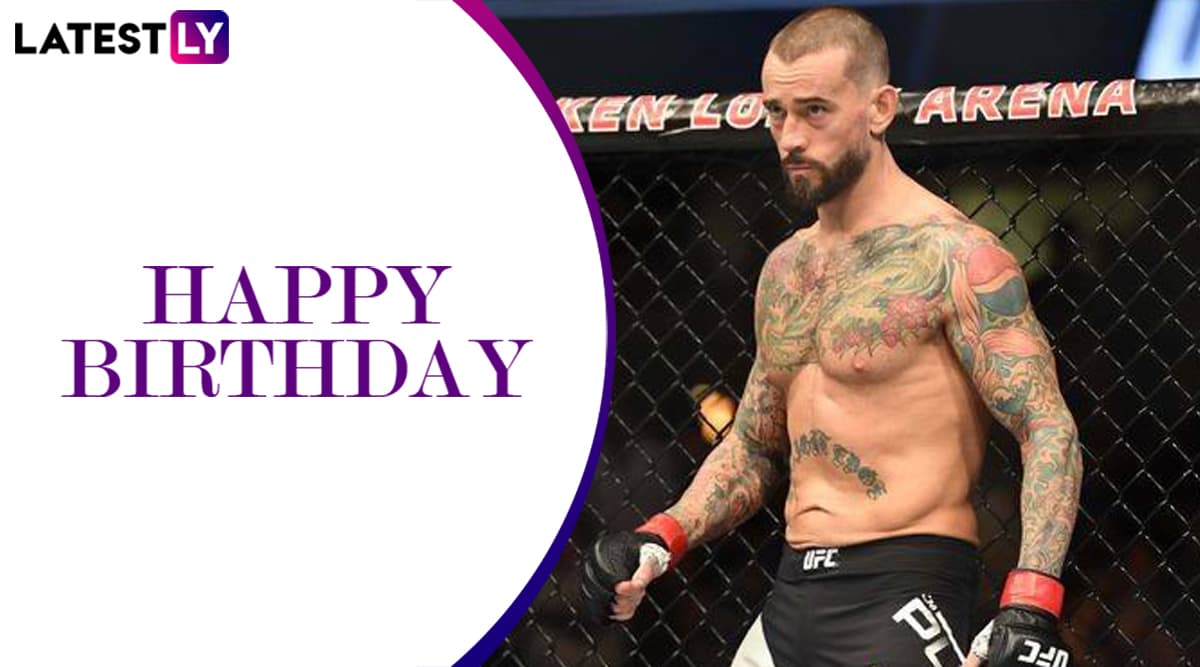 CM Punk is a WWE wrestler who is currently signed to both the Ultimate Fighting Championship (UFC) and Cage Fury Fighting Championship (CFFC). CM Punk real name is Philip Jack Brooks who began his professional wrestling career with Ring of Honor (ROH) in the year 2002 and continued contract with that promotion till the year 2004. Prior to that he made his debut in the ring in the year 1999 in a backyard wrestling federation called the Lunatic Wrestling Federation. CM Punk turns 41 years old on Oct 26, 2019, on occasion of his birthday let us unlock his fitness secret and workout which always keep him in the best shape. We will also throw light on some unknown facts of CM Punk, like from being part of John Cena's entrance to becoming three times World Heavyweight Champion. Matt Hardy Trivia & Workout: Explore Fitness Secret and Unknown Facts of the WWE Star (Watch Video)
CM Punk has taken his fitness to a great level after working with trainers from New Jersey Devils. He has not renewed his contract with WWE since 2014 and since then he is working for Ultimate Fighting Championship (UFC). Those of you who must have seen him wrestling in ring knows how much agile Punk is in the ring where his endurance level is completely unmatched. Since his childhood wrestling days, Punk has been seen in good shape. CM Punk even has good strength, we have seen him delivering his signature move 'Go to Sleep' to the heaviest wrestlers in the industry.
CM Punk's Workout
CM Punk does good amount of conditioning exercises which include battle rope, slam ball workout, sled pull,etc. He also includes strength training in his regime and performs exercises like Trap Bar deadlift, squat, overhead presses, etc. The most important aspect of his training is body balancing and he spend good amount of time in mobility and warm-up. CM Punk just like other athletes ensure that he has a strong core and accordingly he also trains for it by doing planks and cable oblique twist.
CM Punk Strength Training 
Unknown Facts About CM Punk
1. What Does 'CM' Stands For in His Ring Name CM Punk?
CM Punk loved the fact that people has given his initial CM different meaning like Cookie Monster or Cookie Monster referring to his childhood love for cookies. Some even gave full forms like Charles Montgomery, Chuck Mosley, Crooked Moonsault, Charles Manson, Chicago Made or Crazy Mariachi. In a latest interview with IGN.com, Punk admitted that he got the name as backyard wrestler. CM stands for Chick Magnet, in the interview with IGN.com, CM Punk stated that, his name originally stood for Chick Magnet. He further went on to say that he was put into a tag team with this other dude on a whim because somebody didn't show up to a show. It was only supposed to be a one-shot deal, he wasn't even ready to wrestle yet, he did not even have gear or anything, they just put him in the ring to get beaten up. He tried to get rid of it, and it wound up getting shortened to the initials. He also added that he was always Punk, but Chick Magnet at least got shortened to CM.
2. The Real Meaning Behind CM Punk Tattoos 
CM Punk body can be seen in beautifully designed tattoos, however, they all have different meaning. The most visible tattoo is the Pepsi logo on his left arm, which shows his love for Pepsi brand. Punk also has the words "Straight Edge" tattooed on his stomach which represents his strict mantra of being alcohol-free and drug-free. Punk also has "Luck is for losers" tattooed on his arm alongside a rabbit's foot, a four-leaf clover, and a horseshoe. One of his tattoo also pays tribute to his trainer, Ace Steele,. Another tribute appears on the back of his left hand which reads "No Gimmicks Needed" in representation of the late Chris Candido. A green and white wrestling tattoo on Punk body pays homage to the great Japanese wrestler Mitsuharu Misawa. Punk also has various G.I. Joe tattoos to represent his love for that particular comic book, sporting the Cobra Command logo on his shoulder. Behind his ear, Punk has got inked 31 for his little sister who wore the number when she played softball.
3. CM Punk Won First Ever Gulf of Mexico Match in WWE
In 2008, CM Punk had feud with Chavo Guerrero, they decided to get involved in a Gulf of Mexico match. The stipulation of match was that it could only be won by throwing your opponent in Gulf of Mexico. CM Punk won that match by throwing Chavo in Gulf of Mexico where he used his signature move Go to Sleep.
4. CM Punk is a Pescetarian 
We all know that CM Punk is a straight edge, but many are unaware that he is also a pescetarian. He eats only seafood in non-veg diet, apart from that he refrains from eating any animal flesh. CM Punk is indeed very healthy and his lifestyle is very unique as he never drink, never smoke and also follows a pescetarian eating habit.
5. CM Punk Was Part of John Cena's Entrance at WrestleMania 22
In the main event at WrestleMania 22, John Cena was booked in a main event match against Triple H for WWE Championship. John Cena entered in old school gangster where CM Punk could clearly be seen as a part of it along with other struggling wrestlers. It is also said that CM Punk used to be one of Undertaker's druids during his entrance at major pay per views. After few years, CM Punk pinned John Cena at an episode of Raw in the year 2011 to win WWE Championship.
CM Punk is also known for his his 434-day WWE Championship reign stands which is the sixth longest in history. CM Punk married WWE Diva AJ Lee on June 13, 2014. CM Punk indeed has a successful wrestling career so far, he has won the WWE Championship twice, WWE's World Heavyweight Championship three times, and the ECW and ROH World Championships once each. By winning WWE's World Tag Team Championship with Kofi Kingston and Intercontinental Championship, he became WWE's 19th Triple Crown Champion and the fastest to achieve this feat, in 203 days. He was voted WWE Superstar of the Year at the 2011 Slammy Awards There are discussion going on in WWE to bring back CM Punk, fans can expect the return of one of the most entertaining wrestler soon.