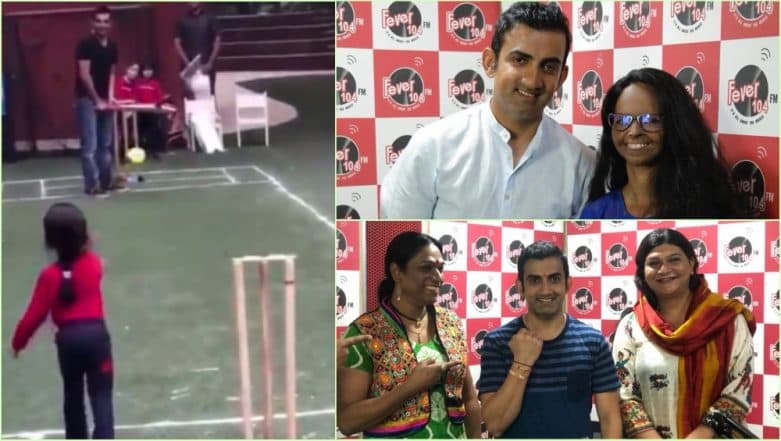 Former Indian opener Gautam Gambhir celebrates his 37th birthday on October 14, 2018. The left-handed batsmen who has had a contribution in several wins for India and most notably the two ICC World Cups, continues to be a fan favourite as he reaches the twilight of his career. His stint with the Kolkata Knight Riders was also very successful, and we all got to witness Gambhir's proficiency at captaining his team. If Gambhir has been prolific on the field, off filed too, the Delhi lad has made quite a name for himself. His tweets in particular often don't go unnoticed and become a huge talking point.
Let us list some of the occasion when Gautam Gambhir's tweets left the netizens in awe of him!
1. Gautam Gambhir in Support of Transgenders and Acid Attack Victims
Gautam Gambhir has often been associated with issues that burn deep in our societies and his support of acid attack victim survivors and getting a Rakhi tied by transgenders on the occasion of Raksha Bandhan highlighted how active he has been when it comes to taking up responsibilities. As per Gambhir, Humanity is above everything. A genuinely inspiring personality we must say.
Met Lakshmi (left) today an acid attack warrior, a gorgeous woman. Sympathetic towards her? No. She is a HERO for me as are transgenders Abhina Aher & Simran Shaikh (right). Wish me & @natashagambhir2 had met them before. We surely wud have named our daughters after them. pic.twitter.com/KmjUx6nmBf

— Gautam Gambhir (@GautamGambhir) September 23, 2018
2. Gautam Gambhir - DDCA Controversy
When Navdeep Saini was selected for India's historic Test against Afghanistan, Gautam Gambhir in his typical fiery mood took on Delhi selectors Bishan Singh Bedi and Chetan Chauhan and offered his 'condolences' to the veteran duo. His ire was due to the reluctance of Delhi selectors to pick a Haryana born player in their team. Gambhir then took Saini under his mentorship, and the bowler repaid the faith shown in him to the extent that he made it to the senior squad. Gautam Gambhir also reminded the selectors in his tweet that country is above everything.
3. Gautam Facing His Daughter's Bowling
Gautam Gambhir's hilarious side was witnessed when his tweet describing how it felt facing his daughter Aazeen's bowling in her school. According to Gambhir, it was a high-pressure job considering she knew where to bowl to her famous dad-outside the off stump. This was a reference to Gambhir's problems with facing the bowl outside the off stump particularly during overseas tours. The tweet also showed the former opener does not lack a sense of humour and is not always the angry man the media portrays him to be.
High pressure job facing my daughter Aazeen's bowling at her school. Hell, even she knows d line has to be outside d off stump vs papa!!!😊😊 pic.twitter.com/DX8SJOiLpI

— Gautam Gambhir (@GautamGambhir) November 6, 2017
4. Gautam Gambhir's Demand for an APJ Abdul Kalam Biopic
Paying homage to former Indian President APJ Abdul Kalam on his death anniversary, Gautam Gambhir reminded everyone that we all need to inculcate amongst ourselves the values left behind by the 'Missile Man'. He also requested the film industry to come up with a biopic on the late scientist in the wake of a biopic frenzy going on in Bollywood what he considers to be nothing but a PR machinery. Could this be a reference to a former Indian skippers biopic that minted a lot of money, we can never say for sure.
Gautam Gambhir has played the game fair and square upholding his moral values. Outside the cricketing world too, it seems he is inspiring the common man with his actions. A true sportsperson in every sense, we wish the cricketer a very happy birthday.