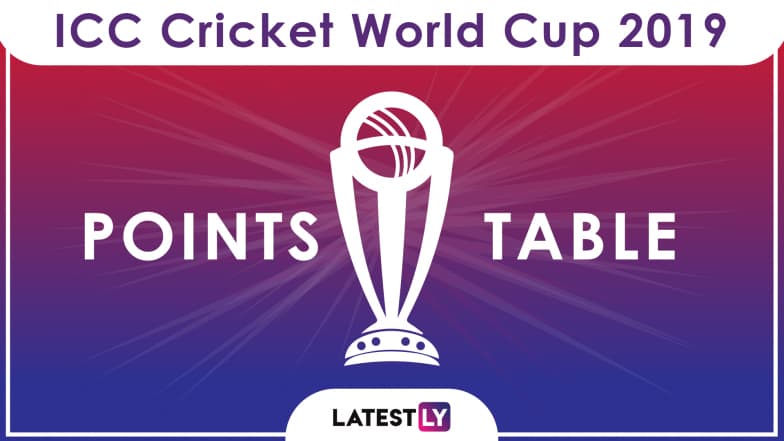 South Africa defeated Australia by 11 runs in the last league game of the ICC Cricket World Cup 2019 (CWC 2019). With this, Australia remains at number two of the points table with 14 points. Team India now has 15 points in its kitty. Which means India will play their semi-final game against New Zealand on July 9, 2019. Whereas, England will play against Australia on July 11, 2019. CWC 2019 Semi-Finals Predictions: Probable ICC Cricket World Cup 2019 Semi-Finalists, These Four Teams Will Finish on Top of Points Table.
Played in the 50-Over One-Day International (ODI)s format, Cricket World Cup is the flagship tournament of International Cricket Council (ICC). CWC 2019, which is the 12th edition will witness a format last seen in the 1992 World Cup. The ten participating teams are not segregated in groups but instead will play against each other following round-robin format. Based on their performances in round-robin matches, and points garnered, top four teams on the ICC Cricket World Cup 2019 points table will advance to the semi-finals. ICC Cricket World Cup 2019 Schedule in IST, Free PDF Download: Full Timetable of CWC19 Fixtures With Match Timings and Venue Details.
The 12th edition of Cricket World Cup is scheduled to begin on May 30 and last until July 14. Over a period of 46 days, 48 matches will be played at 11 venues between 10 teams. Now, that's why all the hype and madness. So, who are our ten teams? They are Australia National Cricket Team, England National Cricket Team, India National Cricket Team, Sri Lanka National Cricket Team, South Africa National Cricket Team, Bangladesh National Cricket Team, Pakistan National Cricket Team, Afghanistan National Cricket Team, West Indies National Cricket Team and New Zealand National Cricket Team. CWC 2019 Semi-Finals Scenarios: Here's How Three Teams Out of Pakistan, New Zealand, England, Bangladesh and India Can Qualify for World Cup 2019 Semis.
ICC Cricket World Cup 2019 Points Table
(Updated Till CWC 2019 Match 45, AUS vs SA on July 06)
Out of 48 matches, 45 matches are a part of the group stage that will be played in a round-robin format. In this, all ten teams will be taking on each other once. It means one side is going to play a total of nine matches. The top four teams from the group will then progress to the knockout stage i.e. semi-finals and winners of the two semis will play the all-important ICC Cricket World Cup 2019 Final on July 14.
Two points will be awarded to each side winning the match in the league stage. No points for the losing side while points will be split in case of a tied match. At the end of the group stage, if two teams are tied on the points table, they will be ranked based on their Net Run Rate (NRR). The NRR in a single game is the average runs per over that team scores, minus the average runs per over that is scored against them. The NRR in a tournament is the average runs per over that a team scores across the whole tournament, minus the average runs per over that is scored against them across the whole tournament.
ICC Cricket World Cup 2019 Schedule: Full Timetable Including Team India's Fixtures, Venue and Match Timings
Australia enters the tournament as the defending champions. They have won the coveted trophy on five occasions (1987, 1999, 2003, 2007 and 2015). As for India and West Indies, they are two winners with Team India lifting the World Cup trophy in 1983 and 2011. While West Indies had won the opening two editions of the tournament in 1975 and 1979. Then we have Pakistan and Sri Lanka who have won the title once in 1992 and 1996 respectively. Hosts England, New Zealand, South Africa, Bangladesh and Afghanistan are the teams from this edition who are yet to win their first Cricket World Cup.