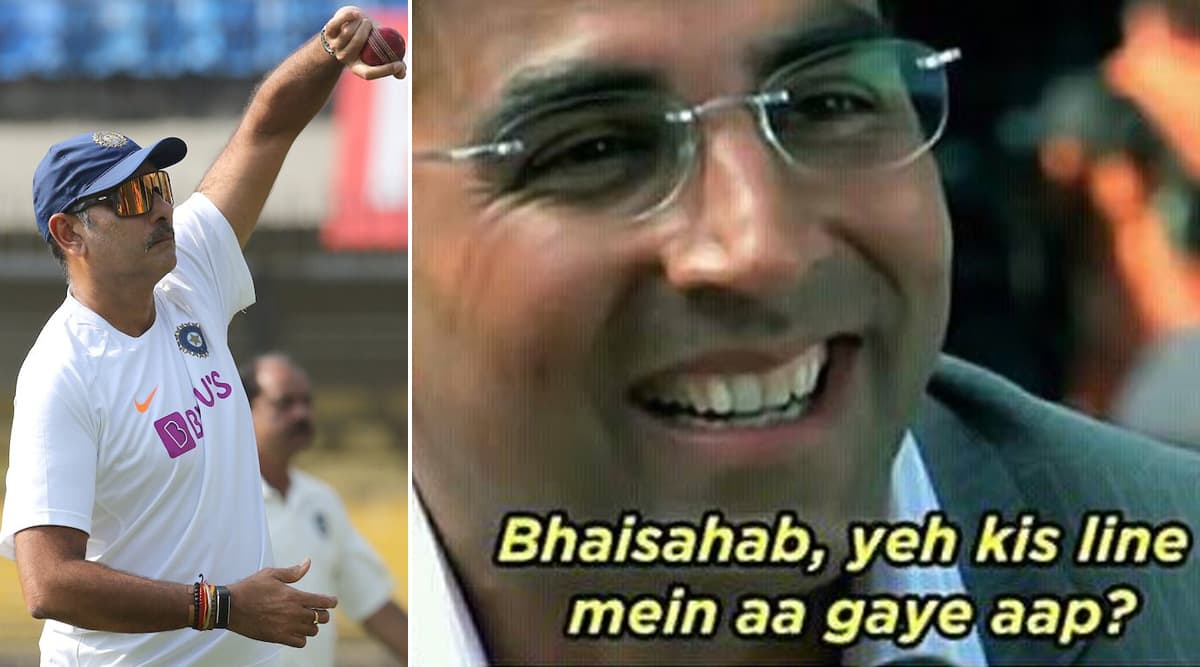 Ravi Shastri has been a hot topic for fans on social media. Trolls have always made the Team India head coach the butt of funny jokes and memes online. Nothing changed on Children's Day (November 14) when Shastri decided to post pictures of him bowling hours before Day 1 of India vs Bangladesh 1st Test match in Indore. The Indian head coach captioned the pictures as, " Old habits die hard." This was enough to set off trolls who immediately got to work. Ravi Shastri Trolled for Taking 'Power' Nap During IND vs SA 3rd Test, Twitterati Turns it Into Nightmare With Hilarious Memes on Team India Coach.
Shastri's post, which showed him bowling leg-spin during one of Team India's practice sessions at the Holkar Stadium, soon turned into a joke. Trolls picked on Shastri and brought up the usual drinking jokes. Some also mentioned that it was the fear of the new BCCI President Sourav Ganguly or "Dada ke khauf" that forced Shastri into bowling leg spins. Sourav Ganguly Says Will Create System Where Ravi Shastri More Involved in NCA.
Back to Playing Cricket
🍻🍻🥂🥂 pic.twitter.com/1OeNXpgZC7

— яιѕнι мο∂ι (@_Shiri7) November 13, 2019
Creativity?
TRUE........... pic.twitter.com/G3XMERxzsK

— Krishna (@Atheist_Krishna) November 13, 2019
The Dada Effect
One of the major changes in Indian cricket which can be seen after Dada Sourav Ganguly becoming BCCI president. Shastri having soup instead of alcohol. 😂 #INDvBAN pic.twitter.com/IMCGuAYUwe

— Sanjay Singh (@sanjay_2044) November 13, 2019
Old Habits?
old habits!! pic.twitter.com/1y8rfIWIw0

— Rohit Goyal (@waterme00369267) November 13, 2019
Old Habits Die Hard
Old habits 😂😂

Daru wali old habits 😂

— Deepanshu (@Deepans42427487) November 13, 2019
Old Thoughts
PK Purani yaadain taza ho jati hai mere bhai....

— Shivang Patel (@its_shivang) November 13, 2019
Live Life King Size
Daily Habit [Live life King Size]👑🍻🥳 pic.twitter.com/pmuoQ6MEjI

— Egorov 🙄 (@absurd_bouy) November 13, 2019
Old Habits - A Brand?
— RΔJIV (@rajivcharitra) November 13, 2019
Those Habits?
— The cyclopath (@kevinBrut1) November 13, 2019
Well... Caption Them
Pic 1 - Before daru

Pic 2 - After daru😂

— Chirag Chauhan (@ChiragC57327928) November 13, 2019
This isn't, however, the first time Shastri has been trolled over the pictures he has shared on social media. There have been several instances in the past where the 57-year-old has been roasted on by his own fans. Meanwhile, India have been in terrific form during Shastri's second term as the head coach of the Indian national team. They recently dismantled South Africa ruthlessly to record 11 successive Test series win at home.