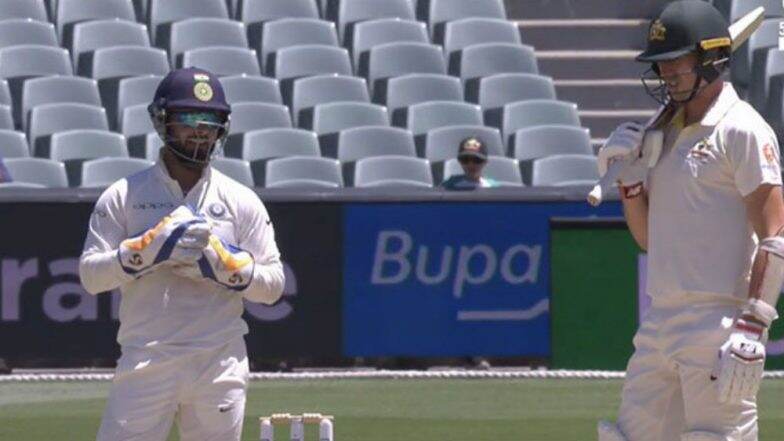 Wicketkeepers have an added responsibility of encouraging bowers during a match. Rishabh Pant, India's latest wicketkeeper, does that without an effort. He is chirpy behind the stumps and is heard shouting all along. On day five of the Adelaide Test, Pant got into the ears of Pat Cummins as well. The Indian wicketkeeper was heard sledging Cummins, who came in to bat at number eight. IND vs AUS 1st Test Live Score Updates.
"Come on, Come on Pat let's see some sixes," stump mic caught Pant as saying as he wanted the batsman to be aggressive and thereby commit a mistake. Pant was also heard saying, "come on, come on Patty not easy to play here, not easy to survive," and "not putting away, not putting away bad balls here, come on lads," said Pant, inciting Cummins to play a rash stroke.  Aaron Finch Avoids a 'Pair' as Ishant Sharma Bowls a No Ball During IND vs AUS Test Match: Watch Video Highlights.
Young Pant is known for his fiery nature and that reflects in his play as well. The left-hander is himself an aggressive batsman and doesn't wait long to play big shots. In the first innings of the Test, Pant scored 25 off 38 balls and slammed two fours and a six. In second innings, he came out all guns blazing and slammed four fours and a six to score 28 off just 16 balls.
Rishabh Pant's Comments Caught on Stump Mic 
'Let's see some sixes, come on Patty!'

The highlight of the first Test: @RishabPant777's vocals behind the stumps https://t.co/LtFNtpZKQs #AUSvIND pic.twitter.com/RTjB33qsnv

— Telegraph Sport (@telegraph_sport) December 10, 2018
As far as Pant's wicketkeeping is concerned, he was impressive behind the stumps. In Australia's first innings, Pant took six catches and joined former wicketkeeper MS Dhoni's record of most catches in an innings of a Test match on Australian soil. Meanwhile, Australia were seven down in a chase of 323 runs at the time of writing this story and Cummins was batting on 14 off 71 balls.