Indian skipper Virat Kohli has been in an exceptional form. There is no record that the 29-year-old cannot break or make. Such is the aura of Indian batting sensation that world cricket is in awe of him. However, Virat Kohli fails to find a place in T20 Player Performance Index latest standings. Yes, Federation of International Cricketers' Associations or FICA released the T20 Player Performance Index for the first time to evaluate players' performance in both domestic and international cricket and Kohli could not make a cut in the list of top-10 players. Glenn Maxwell of Australia with 786 points has topped the list followed by Sunil Narine of West Indies (781 points) and Chris Morris of South Africa (734 points) in the second and third spots respectively.
Virat Kohli is placed first, second and third in One-Day, Test and Twenty20 ICC official rankings. However, in FICA's new yardstick to measure players' performances in form of shortest format of the game, Twenty20 aka T20 Player Performance Index released, Kohli's name was missing from the top-10 list. The top ten players are – 1) Glenn Maxwell of Australia, 2) Sunil Narine of West Indies, 3) Chris Morris of South Africa, 4) Kieron Pollard of West Indies, 5) David Warner of Australia, 6) Dwayne Bravo of West Indies, 7) AB de Villiers of South Africa, 8) Shoaib Malik of Pakistan, 9) Chris Gayle of West Indies and 10) Shane Watson of Australia. Virat Kohli with 679 points takes the 13th place in the list.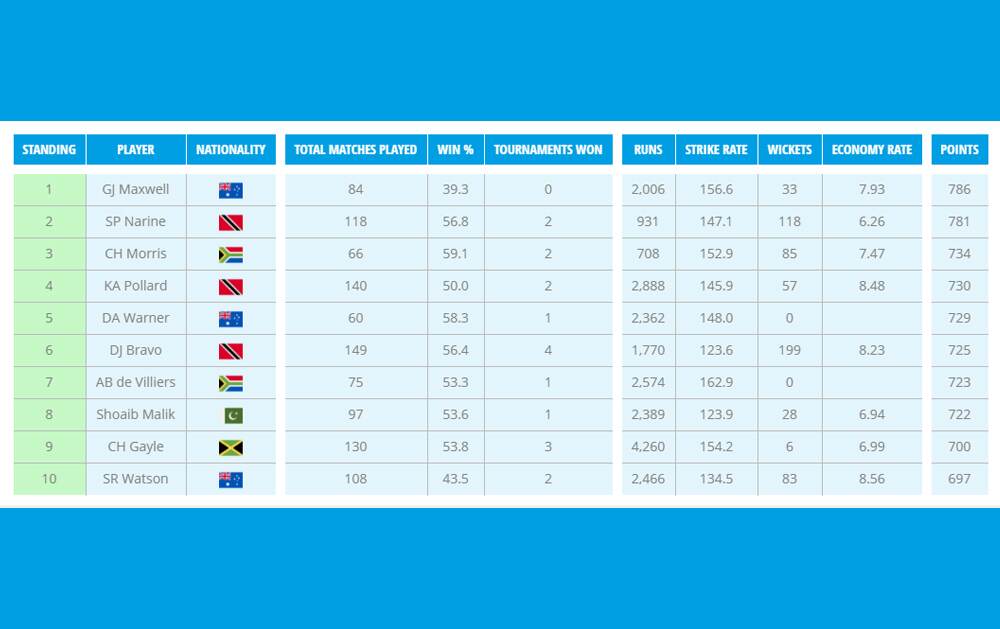 According to FICA media release, Federation of International Cricketers' Associations, the global players' representative body in association with The Cricketer Publishing Limited (TCPL), owner of The Cricketer Magazine (the world's best-selling cricket publication) and Cricket Archive (the world's largest single-sport sport database) have joined forces to create an internationally recognised transformative index to measure the performance of Twenty20 players against their peers across all major domestic T20 competitions worldwide and T20 Internationals.
This new T20 Player Performance Index is created over a period of 18-long months along with leading cricket statisticians, data scientists and in consultation with player representatives and players to create a meaningful, evidence-based approach to determine a world standing for every player representing their club, franchise or country, reports the media statement.
How is the T20 Player Performance Index calculated and what metrics are included:
Batting
Batting Strike-Rate – runs scored divided by balls faced, adjusted to ensure incremental gain for the highest strike-rates

Batting Aggregate – based on batting average across all innings

% of Total Team Runs Scored – runs scored by the batter as a % of the total runs scored in all games in which he played; contributes to normalising the effect of the pitch or conditions.

Boundary Strike-Rate – the percentage of balls faced hit for 4 or 6

Activity rate – the percentage of balls faced where at least one run is scored
Bowling
Economy Rate – runs conceded divided by overs bowled. This is also split by the stage of the innings (Powerplay, Middle Overs and Death Overs) to allow for varied expected values.

Indexed Economy Rate – measures a player's economy rate vs the average economy rate in matches played (again dependent on the stages of match in which the overs are bowled). A better economy rate than average scores positive points, a worse economy rate than average will score negative points. Contributes to normalising the effect of the conditions.

Bowling Aggregate – based on wickets taken vs balls bowled and runs conceded

Wickets as a % of possible maximum – wickets taken as a percentage of the total possible in all matches bowled (i.e. matches bowled x 10 wickets)

% sixes conceded – the percentage of balls bowled which are hit for six (negative metric)

Dot Ball % – the percentage of balls bowled where no run is scored
Fielding
Fielding Dismissals per Match – successful Catches, Run Outs and Stumpings all contribute to a player's points

Byes conceded – Wicket Keepers only; measured vs the overall average
Guy Evans-Tipping, Chief Executive of The Cricketer Publishing Ltd, commented: "With almost all major cricket nations now running domestic T20 competitions, both FICA and TCPL recognised the opportunity to create a system which takes into account player performances in all these leagues. Our game has evolved dramatically since the advent of Twenty20, leaving traditional metrics for judging performance in this format outdated; runs and wickets alone are no longer an adequate measure of success.
"To truly judge a player's value, we need to look at the impact of performances in a much more sophisticated way. The T20 Player Performance Index does that, looking at the context of performance within a team and match situation, taking into account a whole range of metrics such as quality of opposition, the match situation and the impact of that performance on the match. In T20 cricket scoring 40 runs at a strike-rate of 100 when chasing 180 should not be viewed more favourably than scoring 20 from 10 deliveries at the death.
"The T20 Player Performance Index represents a step change in how we judge T20 players and we look forward to crowning the world's best T20 player at the end of the yearly cycle, which concludes with the IPL at the end of May."
(The above story first appeared on LatestLY on Feb 23, 2018 05:56 PM IST. For more news and updates on politics, world, sports, entertainment and lifestyle, log on to our website latestly.com).