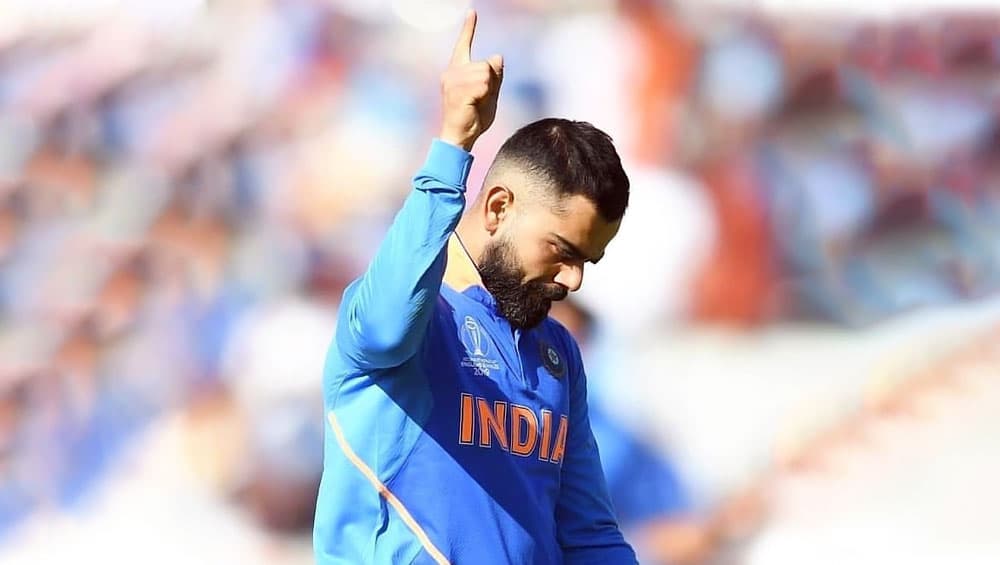 Indian skipper Virat Kohli might not have enjoyed a great outing in the first ODI against Australia where India faced a humiliating 10-wicket loss. However, a day later, the number one-ranked ODI and Test batsman was conferred with 'Spirit of Cricket Award' in ICC Awards 2019. The 31-year old got the honour due to his gesture towards Steve Smith during the India vs Australia clash in 2019 World Cup. The former asked the crowd to cheer for the Australian instead of booing him. However, many netizens were baffled by Kohli getting honour and they trolled ICC's decision on social media. ICC Awards 2019: Rohit Sharma Wins ODI Cricketer of The Year, Virat Kohli Wins 2019 Spirit Of Cricket Award.
Along with his colossal batting performances, Kohli is also known for his aggression and animated behaviour on the field. On many occasions, the star cricketer got involved in a heated banter with the opposition players and has even faced by the heat by the fans. So, 'Spirit of Cricket Award' being given Kohli didn't go down well with many cricket lovers and they took a dig at the apex cricket body for their choice. The official Twitter handle of ICC shared the news of the Indian skipper getting the award and the comment section didn't take long in getting filled with funny messages. Have a look.
ICC's Post!!
Who remembers this gesture from Virat Kohli during #CWC19?

The Indian captain is the winner of the 2019 Spirit of Cricket Award 🙌 #ICCAwards pic.twitter.com/Z4rVSH8X7x

— ICC (@ICC) January 15, 2020
Fans Not Amused with the Decision!!
Kohli winning spirit of cricket is like mia khalifa winning virgin of the year award 😂

— Meet In The Stands (@MeetInTheStands) January 15, 2020
Some Reminisces
— Ali Haider (@tipukianijr) January 15, 2020
More Reactions!!
Bhai yahi to spirit Hai.. 🤣🤣🤣

— Dr Qamber Ali (@rajaqamber12) January 15, 2020
Baffled!!
What was the gesture??

— Dinakaran (@dinakaran) January 15, 2020
Kane Williamson's Fans in Action!!
🤣🤣🤣🤣🤣🤣🤣Your stupid rule sucked NEWZELAND....Kane Williamson deserved it..

— Cricket fan 🧚 (@Fan911Fan) January 15, 2020
The star batsman was also picked as captain for both Test and ODI team of the year and his numbers certainly justifies this decision by ICC. In the year gone by, Kohli scored 2455 runs across all formats which are most for any batsman. His deputy in white-ball cricket, Rohit Sharma bagged the ODI cricketer of the year while Deepak Chahar got the T20I performances of the year award for his 6/7 against Bangladesh.