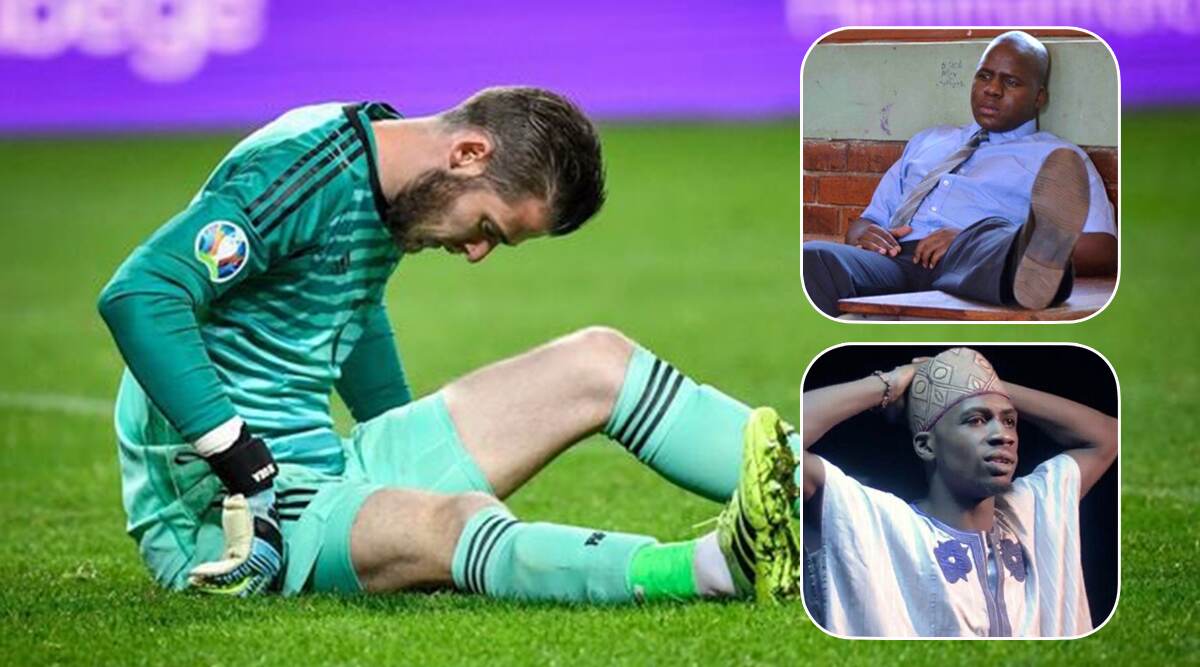 David de Gea gave Manchester United fresh injury scare ahead of their big clash against English Premier League (EPL) leaders Liverpool on October 20, 2019 (Sunday). The 28-year-old United No 1 limped off in Spain's 1-1 draw against Sweden in the Euro 2020 Qualifiers. De Gea was forced off at the hour mark after suffering – what apparently seemed to be an abductor pain – a muscle pull and although those at Old Trafford continued to anxiously wait to discover the extent of De Gea's injury, United fans on social media were panicked on seeing their defensive wall almost ruled out ahead of such an important fixture. Mohamed Salah Put on Special Training Ahead of Manchester United vs Liverpool, EPL 2019-20.
De Gea, who hasn't missed a league game for the Red Devils since May 2018, has been central to United's transition period and recently penned a four-year deal with the EPL club. The 28-year-olds shot-stopper, who started ahead of the first choice Kepa Arrizabalaga, was superb throughout his stay in the ground and pulled out a couple of terrific saves before Marcus Berg nodded home the opener home for Sweden in the 51st minute. Shortly after that, De Gea appeared to have suffered muscle pull when clearing a backpass. He immediately sat on the pitch before being replaced by Kepa. Spain eventually drew the game with substitute Rodrigo scoring in stoppage time to book the two-time champion's Euro 2020 berth.
David de Gea Injured!!
🚨 Injury news on @D_DeGea 👇#MUFC

— Manchester United (@ManUtd) October 15, 2019
Groin Injury Possibly
David De Gea is flagged as an early doubt for Sundays' game against Liverpool after limping out of #ESP @UEFAEURO qualifier in Sweden with a suspected groin injury. #MUFC pic.twitter.com/Q6WNMAHqrc

— Ben Dinnery (@BenDinnery) October 15, 2019
Manchester United Fans Right Now
Commentators: "That David De Gea 's injury looks serious and will certainly miss Man United vs Liverpool this weekend."

Ole Gunnar Solskjaer & Man United fans: pic.twitter.com/KbJCSOEDZn#MUFC

— GIDIONIBLOG (@gidioniblog) October 15, 2019
That Feeling to Miss Your Most Important Player
David De Gea left Spain's European qualifier against Sweden with an injury.

Manchester United face Liverpool on Sunday pic.twitter.com/tBAfe2QXCu

— Princess Joan🔱🇳🇬🇬🇭🇿🇦💕💞 (@MiaJoan2) October 15, 2019
Cursed International Duty
David de Gea is injured... #mufc pic.twitter.com/GEvuyNasvw

— Jordan (@XxElitexAWBxX) October 15, 2019
Can He Play in Goal
Am I the only one who thinks this looks exactly like David De Gea? pic.twitter.com/hVaw0t8jXt

— Chamblane (@Chamblane) October 13, 2019
Meanwhile Mo Salah And Sadio Mane
Salah and mane browsing in man united twitter 😂 pic.twitter.com/AdigkqkZ0I

— Adam Recksi (@adam_recksi) October 15, 2019
Sergio Romero Masterclass Incoming
@D_DeGea off injured. Going to be typical when Romero has the game of his life and turns into prime Lev Yashin against us. pic.twitter.com/Fyq2s23rzw

— Michey Miles 🇳🇬🇳🇬 (@MicheyMiles) October 15, 2019
Please
Tell me you good for liverpool game pic.twitter.com/s7l63JrOLC

— Dilawar (@teslaGoat) October 15, 2019
David de Gea Goes Off Injured
David de gea goes off injured #supersunday pic.twitter.com/Zc3ObAmif5

— ROB 🇾🇪 🔰 (@robmufc99) October 15, 2019
United Fans on Point of Committing Suicide
"David de Gea has gone off injured for Spain. Huge blow ahead of Sunday". #MUFC pic.twitter.com/0M26d4xf6w

— Hejbìe (@Hejbie_UTD) October 16, 2019
Non-Stop Tears
*me* i don't think man utd will win even if @D_DeGea isn't injured...you're still gon play the same shit

Man utd fans👇 pic.twitter.com/TT6pk3w57g

— Ola timpzy🔥 (@OloyedeTimothy4) October 16, 2019
Alive Only to Suffer
David De Gea is the only positive of Manchester United and now he's injured?

Bruv why am i alive? Just to suffer? pic.twitter.com/dvNA29pZ1L

— yung guts (@abstrac_j) October 16, 2019
Excitement in the United Camp?
*Liverpool fans getting excited that David de Gea has gone of injured.

Meanwhile Romero knowing that he's the best No.2 goalkeeper in world football:

— RiZzy🔴 (@RiZzyUTD) October 15, 2019
Oh!! No...
David de Gea injured on international duty... pic.twitter.com/nwGNTUnvVx

— Full Time DEVILS (@FullTimeDEVILS) October 15, 2019
Where Did We Go Wrong?
David de Gea injured. Where did we go wrong? pic.twitter.com/VMPMHFogVE

— Juliet Bawuah (@julietbawuah) October 15, 2019
"He had pain in the abductor but he received treatment at halftime and wanted to keep playing," Spain manager Robert Moreno said after the match. "He gave us his word, but in the end, he couldn't continue." United boss Ole Gunnar Solskjaer, however, will be hoping that the injury to his No 1 is not serious especially with his team plagued by several injuries just two months into this season.