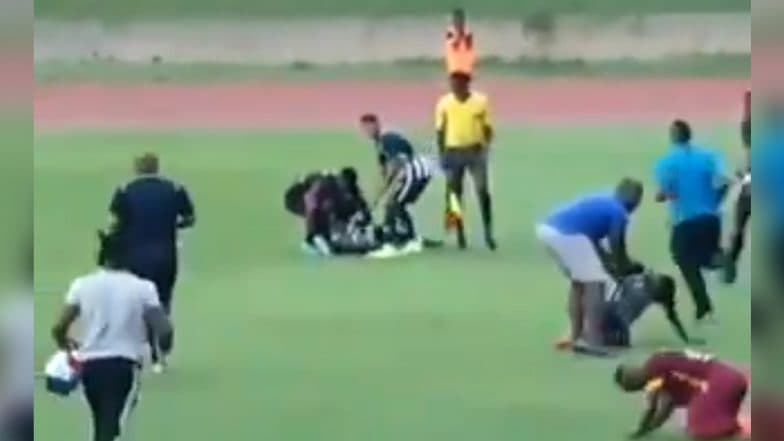 In a frightening incident, four schoolboys were struck by lightning during a football match in Jamaica. The match was played during a Manning Cup game. The scary video of the incident went viral on social media and people were shocked to see the video. Jamaica College Team and Wolmer's School Boys Team played the match. Two boys from each team were injured during the incident. While four players were injured during the incident, only two were serious and admitted in the hospital. Napoli Beat Liverpool in UEFA Champions League 2019–20 Opener, Football Fans Storm Twitter Over Italian Club's 2-0 Victory. 
In the video of the scary incident, the schoolboys can be seen falling on the ground after the lightning strikes. The match was called off after the incident. Karl Tyrell called the game off. The fellow players can be seen helping the injured players post the lightning strike. Have a look at the video below.
Cristiano Ronaldo, in an Interview with Piers Morgan, Says He Trusts Only Four People After Kathryn Mayorga's Rape Allegations. 
Jamaica School Boys Stuck by Lightning!
UPDATE: Schoolboy football organiser @ISSASportsJA is reporting that the two Jamaica College boys struck by lightning have been admitted to hospital. The second complained of chest pains. ISSA says tests were done and an ECG showed irregularities. Player being held overnight. pic.twitter.com/EczBu4TMys

— Jamaica Gleaner (@JamaicaGleaner) September 17, 2019
On Wednesday, the ISSA Sports JA informed everyone on Twitter that the boys were held overnight in the hospital. They were taken to University Hospital of the West Indies. One of the two boys complained about chest pains. ISSA Sports JA also said that regular tests were done and an ECG report showed irregularities. The two players were identified as Terrence Francis, and Dwayne Allen of Wolmer's Boys School.