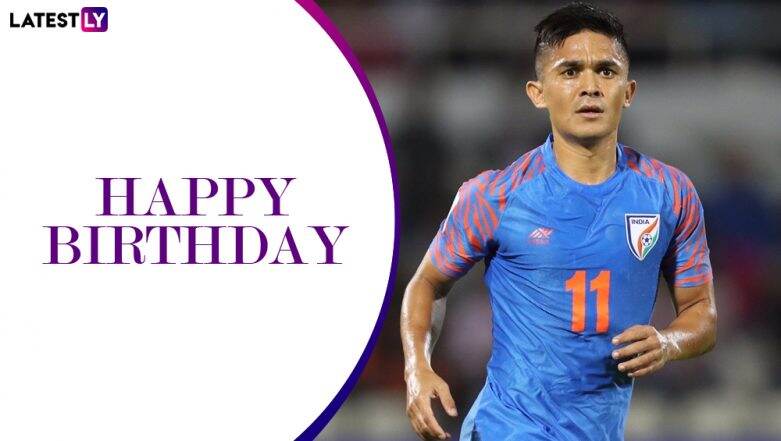 Indian football star, Sunil Chhetri celebrates his birthday on Saturday. Chhetri, who is also the captain of India football team, turned 35 on August 3, 2019. Chhetri has clinched numourous records and milestone in his football career and has taken the Indian football to new heights on the global stage. Indian Football Captain Sunil Chhetri Named AIFF Player of Year for Sixth Time.
Chhetri started his career with Indian football club Mohan Bagan in 2002 and bagged many achievements in his football career. He also plays for Bengaluru FC, a football club based in Karnataka. Chhetri led Bengaluru FC to maiden Indian Super Leage (ISL)  title in 2018-19. The Indian football captain is the poster boy of Indian football at present. On the occassion of Sunil Chhetri's birthday,  we take a look at some lesser-known facts about the legendary footballer. Sunil Chhetri Shares Video of His Son Nutmegging and It Is Beautiful, Check Out Indian Football Team Captain's Inspirational Post.
Army Dad!
Sunil Chhetri's dad is a former officer of Indian Army.  K. B Chhetri was an officer in Corps of Electronics and Mechanical Engineers (EME Corps) in the Indian Army.
Footballer Mom!
Chhetri's mother, Sushila Chhetri, played football for Nepal women's national team along with her twin sister.
Nepali Origin!
Sunil Chhetri's parents are originally from Nepal. They later migrated to India.
Ladylove!
Chhetri married his long-time girlfriend Sonam Bhattacharya in 2017. She is the daughter of former Indian national football player Subrata Bhattacharya.
Prestigious Awards!
Sunil Chhetri has been awarded Arjuna Award (2011) and Padma Shri (2019) by the Indian government for his iconic achievements in football.
Chhetri has been one of the greatest footballers to ever play for India. He is the most capped Indian player with 111 appearances. He is also the all-time top goal scorer for India with 71 goals. Notably, he has scored the second-highest number of goals (71) in international matches among active players and is only behind Portuguese legend Cristiano Ronaldo. These facts are enough to prove that Chhetri is a legendary Indian footballer who will take Indian team to more triumphs in the upcoming time. Happy Birthday, Sunil Chhetri.