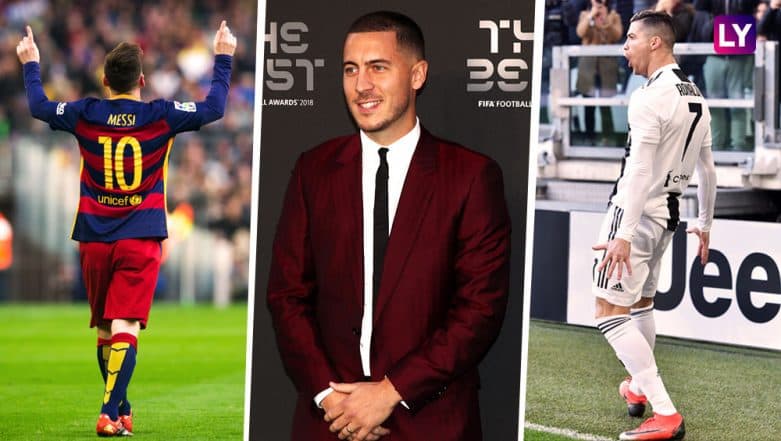 Lionel Messi or Cristiano Ronaldo – who is the Greatest Of All Times (G.O.A.T)? The debate is never ending, and with Eden Hazard jumping in the mix, it will make the argument more engaging for the fans across the globe. The comparisons between the two are there for over a decade now; however, according to Hazard, there is only one player who is worthy of being called 'G.O.A.T.'
Speaking to HLN, Eden Hazard said, "Who's that? Two G.O.A.T.s you say? No way. There is only one G.O.A.T: Him, Lionel Messi!"
While speaking about the 2017-18 UEFA Champions League fixtures against Barcelona, Hazard said, "Those two games against Barcelona were not my best memories of 2018. I was happy to play against Barcelona and Messi, but I didn't deliver what I expected. I was disillusioned. My three sons were there for the home at Stamford Bridge. The eldest is a big Messi fan - all of us are Messi fans. He wanted to see Messi that day, because Messi is a special player." Lionel Messi Hits Champions League Century in Emphatic Barcelona Win over Chelsea.
He further added, "We regularly watch football together. Like I used to do as a child. To Messi, to Ronaldo, to Neymar. In that game against Barcelona, I got a ball at one point. And I didn't know what to do with it. I played it right in the opponent's feet and my son, Leo, suddenly shouted in the stands: 'Haha, my dad thinks he plays for Barcelona."
With Eden Hazard's comment about Lionel Messi being the G.O.A.T and not Cristiano Ronaldo, the modern-day rivalry between the two-star players in contemporary football will only enrich with one vote after another.
For now, it is Lionel Messi - 1, Cristiano Ronaldo – 0, as far as Eden Hazard is concerned. Who do you think is the G.O.A.T? Let us know in the comments section below!