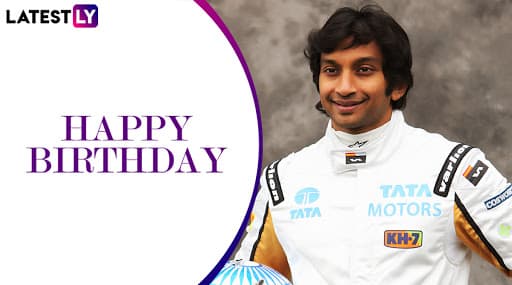 India's first Formula One driver Narain Karthikeyan will celebrate his 43rd birthday on Tuesday (January 14, 2020). Karthikeyan is a well-accomplished racer and has won multiple races in A1GP, British F3, Nissan World Series, AutoGP, Formula Asia, British Formula Ford and Opel Series during his single-seater career. He made his Formula One debut in 2005 with the Jordan team and was a Test driver for Williams F1 during 2006 and 2007. On the occasion of Narain Karthikeyan's birthday, we take a look at some lesser-known facts about the Indian Formula One driver.
Born in Coimbatore, Tamil Nadu, Karthikeyan's interest in motorsport began from an early age has his father was a former Indian national rally champion winning the South Indian Rally seven times. After bursting onto the scene with Jordan in 2005, Narain achieved his first points as F1 driver at the 2005 United States Grand Prix where he finished fourth. During the end of 2005, Karthikeyan tested for Williams at Spain and finished fifth ahead of their confirmed second driver Nico Rosberg and was confirmed as their fourth driver. The Indian racer also spent some time away from F1 as he moved to stock car racing and drove the Toyota Tundra for Turn One Racing in the 2010 NASCAR Camping World Truck Series. In 2011, he returned to Formula 1 with the HRT team and continued with them till 2012.
Here are some Lesser Known Facts About Narain Karthikeyan.
Narain Karthikeyan's father, Kakarla Karthikeyan Naidu was a celebrated racer who had won the South Indian Rally Seven Times

Karthikeyan finished on the podium in his first-ever race at Sriperumbudur in a Formula Maruti car.

In 2005, Karthikeyan signed with Jordan Formula One Team which made him the first F1 driver from India.

During his first stint as F1 racer, Karthikeyan's partner was Portuguese driver Tiago Monterio.

In his first race at the Australian Grand Prix, Karthikeyan qualified in 12th position.

While testing for Williams in 2005, Karthikeyan outpaced the 2016 Formula One World Championship Winner Nico Rosberg.

Karthikeyan made his NASCAR debut at Martinsville Speedway on March 27, 2010, driving for Turn One Racing.

Karthikeyan was awarded Padma Shri in 2010 by The Government of India.
In 2019, Karthikeyan ended his two-decade-long single-seater career as he switched to sports car racing after securing a drive in Japan's Super GT series. The Indian racer last raced in F1 back in 2012 and after spending five years in Super Formula he decided to switch to sports cars.