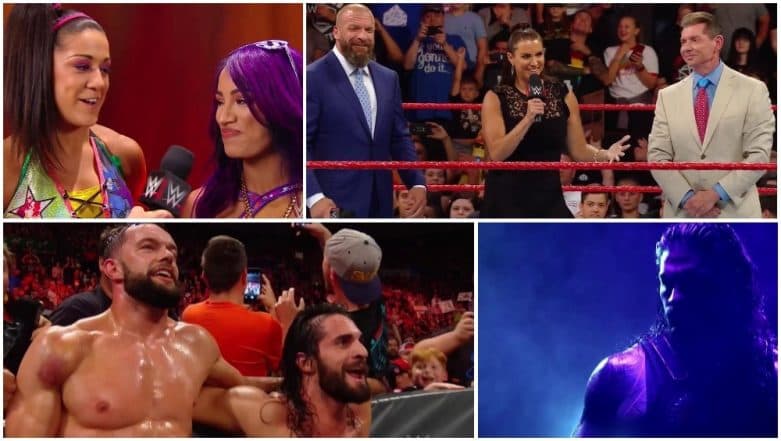 The latest episode of Monday Night RAW, on July 23, began with World Wrestling Entertainment (WWE) Chairman Vince McMahon being cheered amidst massive applause from the crowd. The entire RAW roster was out near the entrance, as Sr. McMahon invited WWE COO Triple H and RAW Commissioner Stephanie McMahon to the ring.
A day before, Stephanie had tweeted about a historic announcement to made on this episode of RAW and living right to her words, she announces the first-ever women-only pay-per-view event 'Evolution', that will take place in the last week of October.
The first match of the night saw RAW Tag-team Champions Curtis Axel and Bo Dallas (The B Team) compete against Bray Wyatt and Matt Hardy, which the former won after a dramatic ending.
A backstage segment showed how Bayley and Sasha Banks sorted out their differences and were looking forward to 'Evolution'. They win their tag-team match against the enhancement talents, Samantha Simon and Karen Lundy, which was next.
There were several other exciting segments and matches in the night that took place. We take a look at the results of all the events that took place on WWE Monday Night Raw.
List of All Matches and Results of Monday Night RAW, on July 23, 2018:
| | | | |
| --- | --- | --- | --- |
| Sr. No. | Matches | Stipulations | Winner |
| 1. | Matt Hardy and Bray Wyatt vs. Curtis Axel and Bo Dallas | Tag-team Championship Match | The B Team |
| 2. | Sasha Banks and Bayley vs. Samantha Simon and Karen Lundy | Tag-team Match | Sasha Banks and Bayley |
| 3. | Mickie James vs. Natalya | Singles Match | Mickie James |
| 4. | Mojo Rawley vs. Tyler Breeze | Singles Match | Mojo Rawley |
| 5. | Finn Balor vs. Drew McIntyre | Singles Match | Finn Balor (By DQ) |
| 6. | Finn Balor and Seth Rollins vs. Drew McIntyre and Dolph Ziggler | Tag-Team Match | Seth Rollins and Finn Balor |
| 7. | Ember Moon vs. Liv Morgan | Singles Match | Ember Moon |
| 8. | Bobby Lashley vs. Roman Reigns | #1 Contenders Match | Roman Reigns |
The main event of the night saw Roman Reigns battle with Bobby Lashley. The winner of the match would then fight Brock Lesnar at WWE PPV SummerSlam for the Universal Championship title.
The gruesome battle saw both the WWE superstars bringing the best out of each other. After near-fall pins and close calls, it was Roman Reigns who won the match. It was an enjoyable watch as both Reigns, and Lashley gave their all to win the bout.
After the match, Bobby Lashley offers to shake hands with Roman Reigns in the middle of the ring. Lashley retreats as he rues the missed opportunity. RAW goes off-air as Reigns celebrate his victory in the ring!