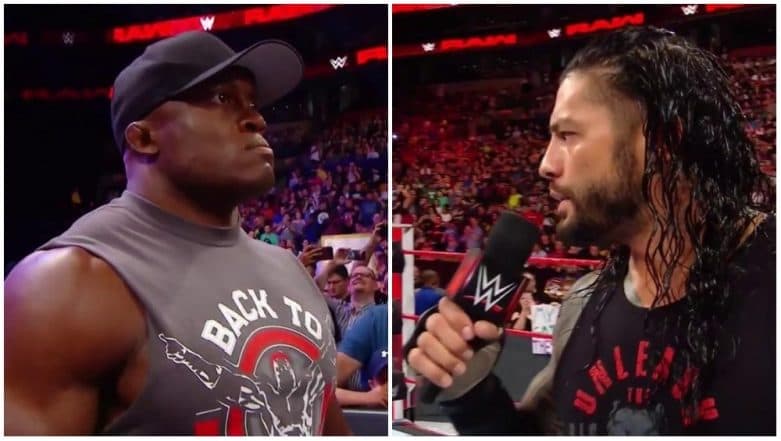 World Wrestling Entertainment (WWE) weekly show Monday Night RAW, this week, began with Roman Reigns and Bobby Lashley feuding against each other in the opening segment. The latest episode of Monday Night RAW took place at TD Garden in Boston, on July 9. The show began with Reigns coming out in the ring with mixed reactions from the crowd.
The Big Dog called Lashley out for a fight, and he obliged. However, it was Monday Night RAW General Manager Kurt Angle, along with RAW Constable Baron Corbin, who intervened and tried to calm the chaos down, to no avail. Both the superstars clashed against each other and Angle had to call superstars from the locker-room to stop the ensuing brawl in the middle of the ring.
After much ado, the order is restored. Backstage, Mickie James and Alexa Bliss are talking about having a trick or up their sleeve to use against Nia Jax and Natalya, later in the night.
The first match of the night saw Mickie James teaming up with RAW Women's Champion Alexa Bliss to compete against Nia Jax and Natalya in a tag-team match. It was, however, Jax and Natalya who won the match. The post-match theatrics between Bliss and Jax perfectly match set their competition at PPV Extreme Rules 2018.
Also, Kevin Owens took refuge in General Manager Angle's office, fearing what Braun Strowman is capable of. However, it was Strowman who had the last laugh as he set up a cage match with Owens at Extreme Rules. Several other events took place on the weekly show, much to the delight of WWE Universe.
List of All Matches That Took Place at WWE Monday Night RAW, on July 9, 2018:
| | | | |
| --- | --- | --- | --- |
| Sr. No. | Matches | Stipulations | Winners |
| 1. | Mickie James and Alexa Bliss vs. Nia Jax and Natalya | Tag-team Match | Nia Jax and Natalya |
| 2. | No Way Jose vs. Mojo Rawley | Singles Match | Mojo Rawley |
| 3. | Matt Hardy vs. Bo Dallas | Singles Match | Bo Dallas |
| 4. | Ember Moon vs. Liv Morgan | Singles Match | Ember Moon |
| 5. | Elias and Baron Corbin vs. Finn Balor and Bobby Roode | Tag-team Match | Baron Corbin and Elias |
| 6. | Seth Rollins vs. Drew McIntyre | Drew McIntyre to Be Banned From Ringside at Extreme Rules, If He Losses | Drew McIntyre |
The last match on the Monday Night RAW show saw Seth Rollins engaging with Drew McIntyre (WWE Intercontinental Champion Dolph Ziggler's side-kick). The gruelling bout saw both the superstars, Rollins and McIntyre, embroiled in an intense tussle.
Ziggler tried to be a distraction too, for Rollins, by he played his antics on the ringside. In the ending moments of the match, Ziggler tried to stop Rollins from hitting his finishing move, but he failed too, eventually.
Rollins hit a 'Curbstomp' on Ziggler, who was trying to meddle in the match since its beginning. However, McIntyre finds enough room to nail his finishing move 'Claymore' on Rollins and pin him down for a win. The referee checked on Rollins as Monday Night RAW went off-air!