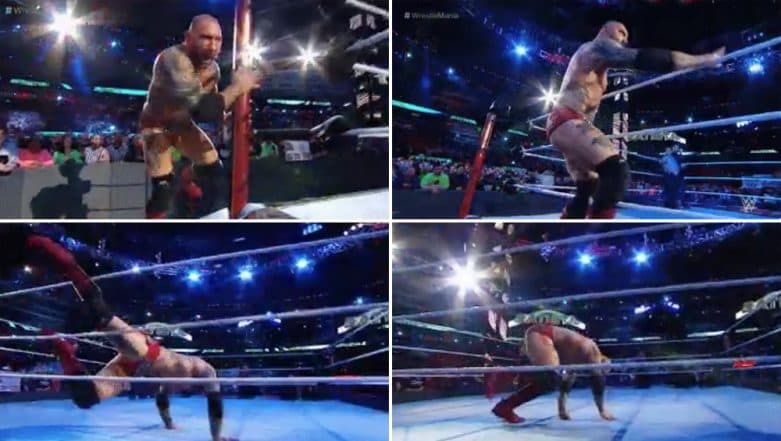 WWE Wrestlemania 35 took place at MetLife Stadium, New Jersey. This flagship event of WWE proved to be the best as always. The grandest event of WWE also featured a no holds barred match between Batista and Triple H. The match went on to be the most brutal of all time, however, it will be remembered for 'The Animal' Batista trips before his match against 'The Game' Triple H. WWE WrestleMania 35: The Man Becky Lynch Becomes the New RAW and SmackDown Women's Champion As She Defeats Ronda Rousey and Charlotte Flair.
Batista made his return to WWE on the occasion of Ric Flair's birthday on Feb 25, 2019. The Animal assaulted Ric Flair backstage and thereby spoiled his birthday celebration on Monday night episode of RAW. This storyline leads to Batista and Triple H match at WrestleMania, as The Animal demanded The Game for one last match or else he would have attacked his more friends. The 50 years old six-time world champion entrance at WrestleMania will go down in history as the most hilarious one. Batista after heading up the steel steps put his left leg through the ropes first but it got caught and The Animal ended up falling in the ring while his theme music was on. WWE WrestleMania 35: The Demon Finn Balor Becomes the New Intercontinental Champion by Defeating Bobby Lashley.
Watch Dave Batista Trip Before His Match With Triple H
what a marvel #WrestleMania pic.twitter.com/f1eBLTFKJB

— Scottish Undertaker (@ScotUndertaker) April 8, 2019
Watch Gruesome moment from the match
Things are about to get a LOT worse for @TripleH courtesy of @DaveBautista... #WrestleMania pic.twitter.com/sJOxeb3njs

— WWE WrestleMania (@WrestleMania) April 8, 2019
BREAK IT DOWN.@TripleH just risked it ALL to turn the tide in this #NoHoldsBarred Match! #WrestleMania pic.twitter.com/CCVT1UaqKo

— WWE (@WWE) April 8, 2019
😱😱😱😱 NOT THE NOSE RING!!!! #WrestleMania @TripleH @DaveBautista pic.twitter.com/OAJWpveyVy

— WWE (@WWE) April 8, 2019
Triple H Won Due to Distraction From Ric Flair
THE GAME LIVES ON.#WrestleMania @TripleH @RicFlairNatrBoy pic.twitter.com/lVSjdlksU1

— WWE (@WWE) April 8, 2019
The Game won the match by hitting Batista with the sledgehammer, when The Animal focus was on the Nature Boy Ric Flair. Triple pinned his WrestleMania 35 rival by hitting a pedigree. This match will indeed go down as one of the most brutal matches of all time in the history of WrestleMania.