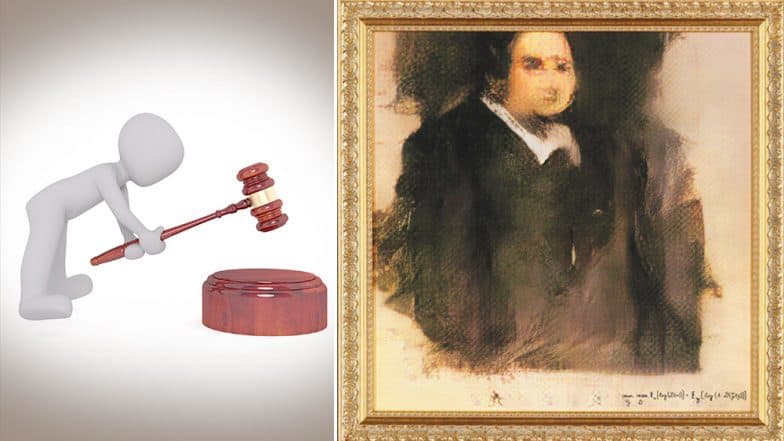 In the days of using advanced technologies, even artworks are being created. The first painting created using Artificial Intelligence is all set to be auctioned at New York's famous auction spot Christie's Gavel. The place has seen some of the biggest masterpieces like the paintings of Picasso and Monet auctioned at very high rates. Now an AI-generated 'Portrait of Edmond Belamy' is all set to be auctioned. The auction will be held till October 25. Banksy's Famous 'Girl with Red Balloon' Painting Self-Destructed After Being Sold at London Auction (Watch Video). 
The picture is the first of its kind to be created using an algorithm and thus marks a big step in the field of fine art. This picture fills the canvas not completely but has a central figure, a man with a blurred face, wearing clothes dating back to the 17th century. The picture had human programmers and it also shows the artist's signature min max Ex[log(D(x))] + Ez[log(1-D(G(z)))]. This painting is a part of a series of paintings of the Belamy family, a fictional character. Amedeo Modigliani's Nude Painting "Nu couché (sur le côté gauche)" Raises More Than $157 Million at Sotheby's Auction. 
According to Christie's website, this artwork is "in the interface between art and artificial intelligence." They state the artwork will fetch approximately $7,000 to $10,000. Making this art was a very tedious process to generate commands for visual elements of art. They used almost 15,000 images that were painted between those centuries to help in commands. The method of making this painting is dubbed as "generative adversarial network" (GAN). It is indeed a unique piece of art for art lovers.