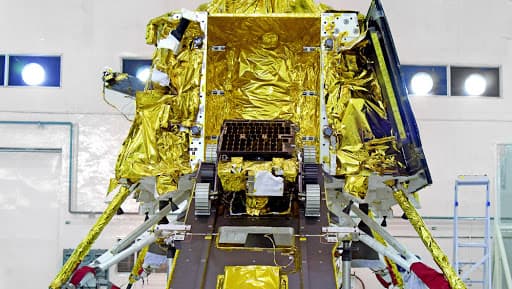 Bengaluru, September 6: Chandrayaan 2, India's second lunar mission, will land on the moon's surface on September 7 between 1:30 am and 2:30 am. Vikram Lander will touchdown on the lunar surface along with rover Pragyan inside. The Rover roll-out will take place between 5:30 am to 6:30 am. Doordarshan will telecast the live streaming of the historic event. Viewers can also witness the historic movement on the official website of the Indian Space Research Organisation (ISRO). Chandrayaan 2 Enters Lunar Orbit Successfully, ISRO Completes Tricky Operation Ahead of Moon Landing.
Chandrayaan 2 was launched at 2:43 pm IST on July 22 from the Satish Dhawan Space Centre in Sriharikota by GSLV Mk-III. Chandrayaan 2 entered lunar orbit on August 20. The very next day, the second lunar orbit manoeuvre was carried out. ISRO conducted the third, fourth and fifth manoeuvre on August 28, August 30 and September 1 respectively. The two de-orbital manoeuvres were conducted on September 3 and 4. Where is Chandrayaan 2 Now and How It Will Reach The Moon; ISRO Mission's Path Explained.
The spacecraft sent the first images of the moon's surface on August 22. The image was captured by the Vikram Lander at the height of about 2,650 km from the lunar surface. Vikram Lander also sent images of craters such as Jackson, Mach, Korolev and Mitra from the lunar surface on August 26. Chandrayaan 2 Moon Landing: '15 Minutes of Terror' — All You Need to Know About The Event Awaited by Scientists Across The World.
Watch Details of Chandrayaan 2 Landing:
The total cost of Chandrayaan 2 is Rs 978-crore. The rocket, nicknamed as "Baahubali" carried the 3.8-tonne Chandrayaan 2 spacecraft which had three modules namely Orbiter, Lander (Vikram) and Rover (Pragyan). The lander is named "Vikram" as a tribute to the pioneer of India's space programme and former ISRO chairman Vikram Sarabhai. Chandrayaan 2 Soft Landing on Moon: When And How to Watch Live Streaming of Vikram Lander's Touchdown on Lunar Surface.
Chandrayaan-2 will head towards the southern side of the moon where no other country or mission has gone before. The south pole of the moon, is that part which holds the possibility of the presence of water. If Chandrayaan-2 becomes successful, India will become the fourth nation to land a rover on the lunar surface after the US, Russia, and China.