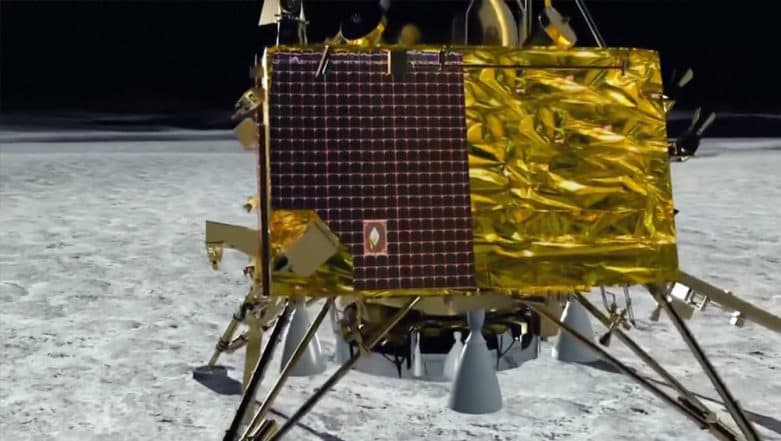 Bengaluru, September 6:  India will create history on September 7 after the landing of Chandrayaan 2 on the lunar surface. The live streaming of Chandrayaan 2 will be telecast on Nat Geo India, Starplus, Hotstar and Star Bharat. Vikram Lander (with rover Pragyan inside) is expected to touchdown on the surface of the moon on September 7, between 1:30 am and 2:30 am. It will be followed by the Rover roll out between 5:30 am to 6:30 am. Chandrayaan 2 Captures Fresh Images of Craters on Moon's Surface; ISRO Releases Photos Taken by Terrain Mapping Camera-2 of Spacecraft.
Around 70 students from across the country will be watching Chandrayaan 2's scheduled soft-landing on the moon. According to reports, the students will watch Vikram Lander's soft landing live along with Prime Minister Narendra Modi. Two students who got top scores in ISRO's online space quiz contest from each state and union territory have been invited by the space agency to watch the landing of Chandrayaan-2's Vikram module on the Moon from ISRO's centre in Bengaluru. Chandrayaan-2 Lander Vikram Nears Moon as ISRO Successfully Completes First Deorbit Manoeuvre
Nat Geo India's Tweet:
Where will you be when #IndiaMakesHistory? Witness history in the making on 6th September, 11:30 PM with @NatGeoIndia, @Starplus and @Hotstar @StarBharat on #Chandrayaan2Live.

Like/ReTweet to show commitment to Chandrayaan2Live. We'll set the reminder for you! pic.twitter.com/Bl3nTkMqH6

— Nat Geo India (@NatGeoIndia) September 5, 2019
Chandrayaan 2 sent first images from the moon on August 22 a day after entering the lunar orbit a day before. The image was captured by the Vikram Lander at the height of about 2,650 km from the lunar surface. On Tuesday, the first de-orbital manoeuvre was performed, while the second de-orbital manoeuvre was performed on September 4. Chandrayaan 2 Gets Closer to Moon, Separation of Vikram Lander.
Video of Chandrayaan 2 Mission:
The spacecraft was launched on July 22 from the Satish Dhawan Space Centre in Sriharikota by GSLV Mk-III. With the success of this mission, India will become the fourth nation to make a soft landing on the moon after Russia, China and the United States.