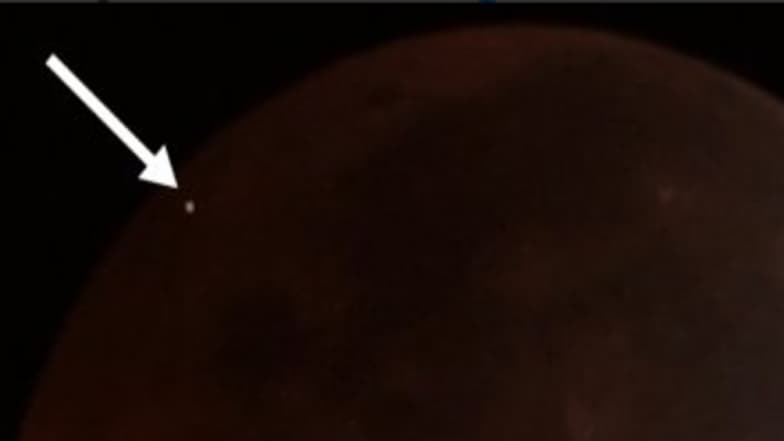 January 2019 Lunar Eclipse aka Super Blood Wolf Moon which took place between January 20 and January 21 became extra special after it was stricken by a meteorite. Jose Madiedo, an astronomer from Spain's University of Huelva, confirmed this rare happening and tweeted that a lunar impact occurred at 5:41 am SPT (Spanish Peninsular Time). In the photograph released by Madiedo, it can be clearly seen that a white light appearing in the dark part of the moon. Super Blood Wolf Moon 2019: Know All About the Lunar Eclipse and Related Doomsday Prediction.
Meteorite striking the moon has been captured earlier also but was the first time that a lunar impact was captured during a lunar eclipse. In the video posted by Madiedo, a lunar impact flash spotted by the telescopes at 4:41:38 universal time. Later, the MIDAS (Moon Impacts Detection and Analysis System) Survey conducted by the Institute of Astrophysics of Andalusia and the University of Huelva confirmed that the flash was produced by a meteoroid that hit the moon ground. What is Total Lunar Eclipse and Why is it Called Wolf Moon.
Watch Moon Stuck by a Meteorite:
Jose Madiedo's Tweet:
La roca se desintegró durante el impacto, produciendo el destello que recogen las imágenes @AstroyFisica @PlanetarioMad @elpais_sociedad @EFEnoticias @abc_ciencia @miangulo_95 @CNNEE @elperiodico @LaVanguardia @UCC_UHU pic.twitter.com/99MSfOZIGk

— Jose Maria Madiedo (@jmmadiedo) January 22, 2019
On Monday, millions of people around the world gazed into the night sky to view and video feed coppery-red Total Lunar Eclipse. The unique eclipse began of January 20 at 7:35 Pacific Time (PT) and ended at 10:51 pm PT on January 21. The Lunar Eclipse called Chandra Grahan was seen on Sunday night. Meanwhile, what people missed was the rare meteorite hitting the moon was it was not visible with naked eyes and was only captured in telescopes.