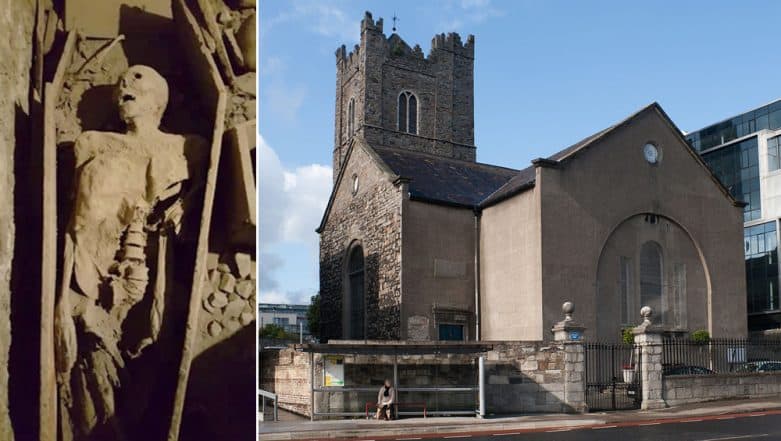 A Dublin church, St Michan's became a target of the vandals who destroyed an 800-year-old 'Crusader.' It was destroyed over the weekend and was only discovered on Monday when a tour guide was opening the church for some visitors. Archdeacon David Pierpoint said that the Crusader's head was severed and the body has been taken away! The church had been vandalised in the year 1996 as well. Karnataka: Four Youths Who Vandalised Hampi Temple Complex Made to Re-Erect Pillars, Pay Rs 70,000 Fine Each.
Archdeacon Pierpoint also said that such incidents are devastating for the entire community. "It's a sad day for the church and a sad day for humanity that someone would do such a thing," he was quoted to a report. After the vandalism, the tours of this site was cancelled for the future, because if the main crusader structure is no more there, it is a big insult for the community. This was a famous site for tourism and about 27,000 people have said to visit the church in last year. 2100-Year Old Egyptian Mummy Thought to be a 'Hawk' is Actually a Stillborn Baby.
Take a Look at The Picture of the Vandalised Crusader
This is the 800 year old "Crusader" from St Michan's Church in Dublin which has been decapitated by vandals. Archdeacon David Pierpoint is telling @boucherhayes that "his was head severed from his body and taken away." The gruesome discovery was made by the tour guide at 1pm. pic.twitter.com/WVh2IHToCM

— Liveline (@rteliveline) February 25, 2019
It was not just the mummy of the Crusader but even other mummies were vandalised. The crypt was damaged too badly. Among the other damaged mummies was also a 400-year-old remains of a nun. The Crusader's body lied turned over and its head removed. "They turned his body around, they messed around it and then they severed his head, they removed his head and it disappeared," he was quoted to RTÉ. It is said that it is now hard to maintain these vandalised remains as they may disintegrate over time due to the open air. The crypt was used to secure but now that too is destroyed. There are investigations being conducted on who did the break-in.