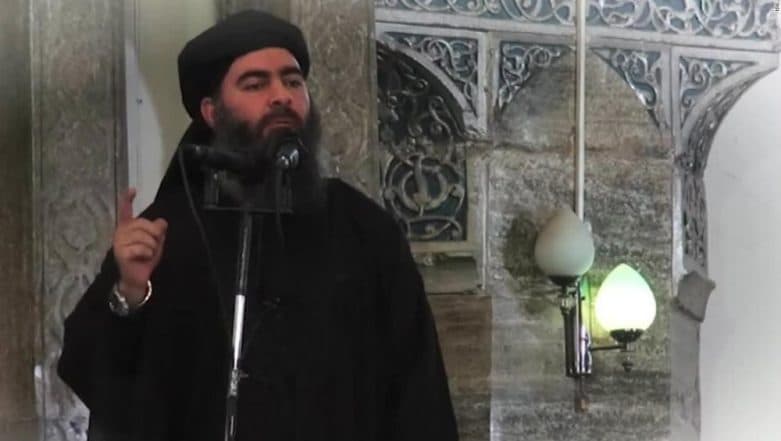 Bhagdad, April 29: Abu Bakr al-Baghdadi, self-proclaimed caliph and chief of terror outfit Islamic State or ISIS, appeared for the first time in five years in a propaganda video released by the jihadist organisation on Monday. This is Abu Bakr al-Baghdadi's only second appearance on video. In his 18-minute address, Bhagdadi vows to take revenge for the killing and imprisonment of ISIS "fighters".
It was unclear when the video was shot, but Baghdadi referred in the past tense to the months-long fight for Baghouz, ISIS's last bastion in eastern Syria that ended last month. "Truthfully, the battle of Islam and its people against the cross and its people is a long battle. The battle of Baghouz is over. But it did show the savagery, brutality and ill intentions of the Christians towards the Muslim community," he says. Islamic State Releases Audio of Leader Abu Bakr Al-Baghdadi After Long Absence.
Bhagdadi was seen with a bushy grey beard and an assault weapon close by. He was addressing three men whose faces have been blurred. The footage was released by ISIS's media wing al-Furqan. "There will be more to come after this battle," says Baghdadi, apparently referring to the final fight in Baghouz. The authenticity and date of the video could not be independently verified. Islamic State Leader Abu Bakr Al-Baghdadi's Son Reportedly Killed In Syria.
According to SITE Intelligence group, the ISIS chief also discussed the suicide bombings on Easter Sunday in Sri Lanka that claimed more than 250 lives. Abu Bakr al-Baghdadi became on one of the world's most-wanted terrorist leaders when he proclaimed the Islamic State terror organization's so-called caliphate from a pulpit of the Great Mosque of al-Nuri in the Iraqi city of Mosul in 2014.