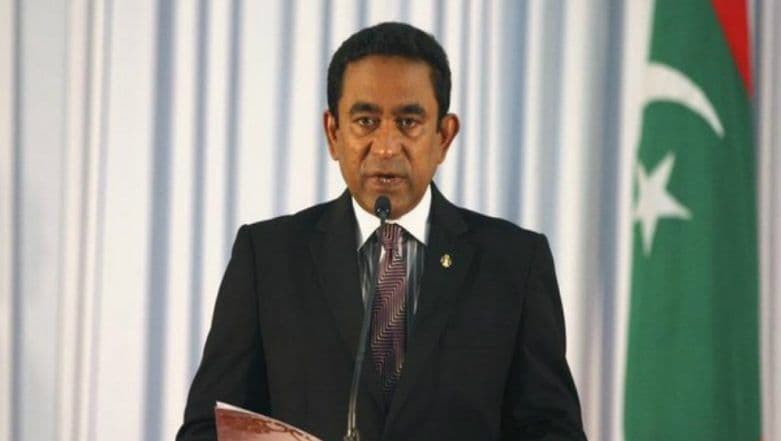 Outgoing Maldivian President Abdulla Yameen has challenged the results of the recently concluded general elections which saw him being handily defeated by a united opposition candidate Ibrahim Mohamed Solih. Yameen has filed a legal challenge in the High Court and the Supreme Court against his recent election defeat.
In a Twitter post close to midnight, the department of judicial administration said the top court has agreed to hear the case.
Yameen's lawyer, Mohamed Saleem, however, refused to reveal the details of the case and did not clarify if the outgoing President was seeking to overturn the election results, reported Al Jazeera.
The Maldivian Constitution allows candidates two weeks from the day of the declaration of results to initiate a challenge in the court.
A press statement released by Yameen's party, Progressive Party of Maldives (PPM), stated that they have decided to take legal recourse "following numerous serious complaints received by Observers, Monitors and members of the general public in the immediate aftermath of the 23rd September 2018 Presidential polls in the Maldives."
The statement further highlighted that the PPM had taken the step after a thorough examination of the complaints for "authenticity" and were "overwhelmed with numerous genuine concerns related to the elections, including serious allegations of vote rigging, fraud, malpractice and corruption."
According to Al Jazeera, Yameen has not offered a lot of evidence to strengthen his claim, while his counsel stated that he will be submitting documentary evidence and witness statements to the court.
Solih's spokesperson called on Yameen to respect the election results. "The people's word on the matter is final." Solih is slated to be sworn in on November 17.
There are also reports that officials of the of Maldives' Elections Commission have fled the country because of threats from supporters of President Yameen. The supporters are accusing the officials of rigging last month's presidential election in favour of the opposition candidate, according to the head of the commission.
In a hotly-contested election in the island nation, held on September 23, Ibrahim Mohamed Solih, the opposition Maldivian Democratic Party's candidate, emerged victorious by garnering 134,616 votes, while Yameen managed to get 96,132 votes only. Yameen conceded defeat a day after the election, but has since alleged irregularities in the voting and counting process. (With Agency inputs)