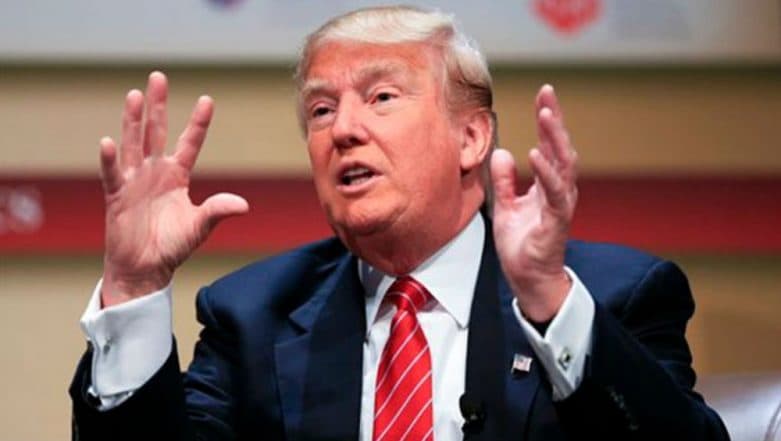 Washington, February 20: Days after the heinous terror attack in Pulwama which claimed lives of 40 Indian security personnel, United States President Donald Trump issued his first reaction, calling the February 14 strike "horrible". He, however, pitched for dialogue between the two subcontinental neighbours, asking India and Pakistan to "get along" in combating terror.
"I've seen it, I've received a lot of reports on it. We'll have a comment at appropriate time. It would be wonderful if they got along. It seems like that was a horrible situation. But we're getting reports, we'll have a statement to put out," Trump said. 'If India Opens War Front, Pakistan Will Retaliate', Says Imran Khan.
The President's statement comes nearly five days after US National Security Advisor John Bolton dialled up his Indian counterpart Ajit Doval, conveying to him that Washington respects New Delhi's "right to self-defence".
The subsequent statements issued by top US officials, including Secretary of State Mike Pompeo, have, however, called for restraint and a joint approach in tackling the menace of extremism in the region.
White House Press Secretary Sarah Sanders, in a separate statement, appealed Pakistan to cooperate in the investigation with India and take stern action against Jaish-e-Mohammed (JeM), the Bahawalpur-based organisation which has claimed responsibility of the fidayeen attack.
The US reaction also comes in the backdrop of an unprecedented peace negotiation with Afghan Taliban -- which involves Pakistan as a key stakeholder as it has been playing the role of an active mediator. Pakistan's envoy to Afghanistan, Zahid Nasrullah, on Tuesday warned that the talks with Taliban would be derailed if "India attacks us".