Washington, July 23: The United States President Donald Trump's daughter Ivanka Trump was left red-faced on Tuesday after an unfortunate misspelling of the United Kingdom as she offered her wishes to new Tory leader Boris Johnson. In a tweet, Ivanka wrote, "Congratulations Boris Johnson on becoming the next Prime Minister of the United Kingston." Boris Johnson Is New UK Prime Minister After Winning Tory Leadership Contest, To Replace Theresa May.
The 37-year-old, who has over 6.7 million Twitter followers, faced ridiculed over the typo. One person wrote, "I'm 14 and can spell better than you. United Kingston!" Another confused Twitterati wrote said, "Kingdom or Kingston?". UK Finance Minister Philip Hammond to Quit If Boris Johnson Becomes PM.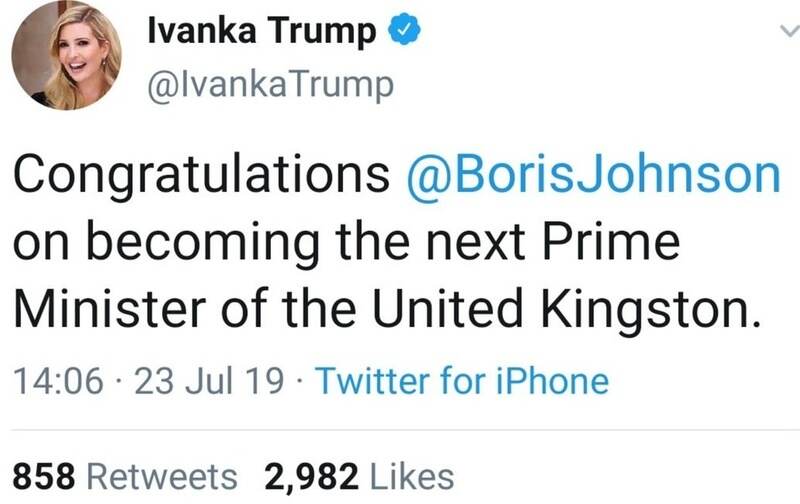 Shortly, Ms Trump removed the post and replaced it with another with correct spelling.
Congratulations @BorisJohnson on becoming the next Prime Minister of the United Kingdom.

— Ivanka Trump (@IvankaTrump) July 23, 2019
The tweet came shortly after Johnson won the Tody leadership contest by a two-to-one landslide. He defeated Jeremy Hunt by 92,153 votes to 46,656. Johnson will replace Theresa May as the new Prime Minister on Wednesday evening.
President Trump also congratulated Johnson on his landslide victory but managed to spell correctly. "Congratulations to Boris Johnson on becoming the new Prime of the United Kingdom. He will be great!" he said. Trump had earlier referred to Johnson as his "friend" and the duo are expected to discuss over the phone call this week.