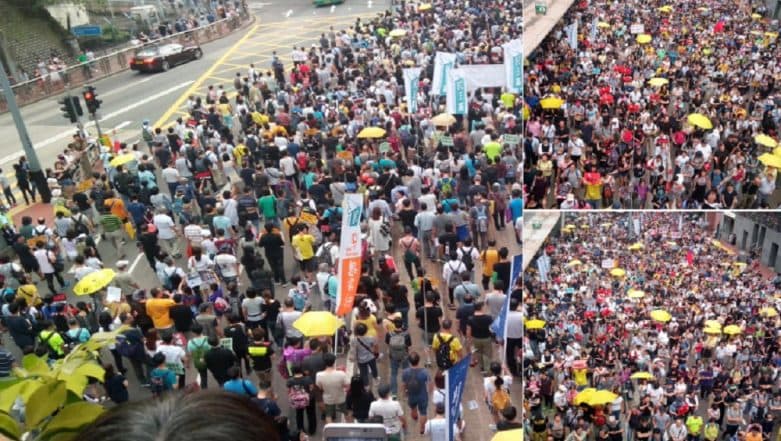 Mumbai, April 29: Hong Kong has erupted in protests over the Chinese government's introduction of a new law that would allow for the extradition of suspects to mainland China for trial.
The change in the law was introduced by Carrie Lam, the pro-Beijing leader of Hong Kong. The overhaul to the city's extradition laws means that, for the first time, suspects could be extradited to Taiwan, Macau or mainland China on a case-by-case basis.
Thousands of people came on to the streets of Hong Kong against the change in the new law which signals to the city that Beijing wants more control over it. Hong Kong, a former British colony has had a high degree of autonomy as it operates with the – one country, two systems rule.
There were varying estimates to the number of people who took part in the protests – from 22,000 to over one lakh residents. These protests are the largest the city has seen since the pro-democracy 2014 Umbrella movement. Demonstrators carried placards and chanted slogans against Lam. They accuse her of "selling out" Hong Kong and called on her to resign.
The protesters also vented their anger against China's President Xi Jingping, under whose rule Beijing has sought to exert increasing control over Hong Kong. Protesters held up a sign that read, "President Xi Jinping, no legalised kidnapping of Hong Kong people to China". Read: Chinese Democracy Activist Sentenced to 13 Years for 'Subversion'
The protests against the changes to the law come just days after four leaders of the Umbrella movement were sentenced to jail for their role in the pro-democracy protests under a colonial-era public nuisance law. Those sentenced to serve jail time include a sociology professor Chan Kin-man, law professor Benny Tai, and Baptist minister the Rev Chu Yiu-ming. They were given 16 months each for conspiracy to commit public nuisance.
Those living in Hong Kong and observers realised the jail sentences were a message from Beijing that there will be consequences for advocating for democracy and opposing the Communist Party of China.