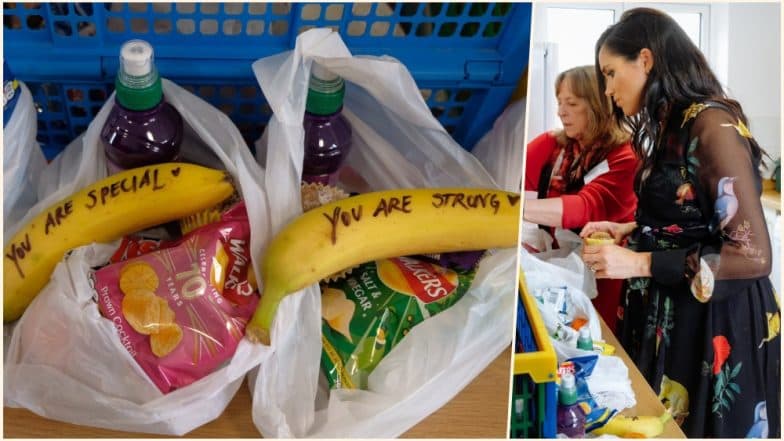 Meghan Markle and Prince Harry tied the knot in May, last year and since then they have been enjoying their post-marital bliss by sweeping up into a whirlwind of royal duties, obligations and sky-high expectations. The Duchess of Sussex has only made a stand-out appearance to wherever she goes. The royal couple who are expecting their first child now, has kicked off 2019 by supporting causes close to their hearts. On February 1, Meghan and Harry made a surprise visit to One25, a charity that helps homeless sex workers struggling with addiction build new lives in Bristol, England. Meghan Markle Due Date Revealed: Royal Baby to Arrive in Late April. 
The Duke and Duchess of Sussex braved the bone-chilling weather to visit Bristol reportedly for a joint official engagement. At One25, Meghan and Harry helped pack care packages with warm clothing, hot water bottles, condoms and lunches for women who are living on the streets. While doing so, the Duchess of Sussex was struck by the idea to add her own personal touch on the bunch of bananas that would be handed out the females. A royal correspondent, Hannah Furness tweeted that Meghan saw the food and came up with the idea to write some strong and empowering messages on the bananas. Meghan Markle Just Broke Another Royal Protocol by Painting Her Nails Black at British Fashion Awards. 
Watch Meghan Writing Empowering Messages on the Bananas for Sex Workers
While packing lunches for @One25Charity's outreach service, The Duchess of Sussex had an idea to write positive messages on banana skins... pic.twitter.com/Fwm6arfc25

— Kensington Palace (@KensingtonRoyal) February 1, 2019
According to media reports, the 37-year-old declared she was now "in charge of the banana messaging," and wrote messages that include, "you are strong," "you are loved" and "you are special," each with a little love heart.
Here Are the Pictures
...some of the women working on Bristol's streets this evening will receive these messages from The Duchess in their food parcels. #RoyalVisitBristol pic.twitter.com/A3i2r1sTYT

— Kensington Palace (@KensingtonRoyal) February 1, 2019
Sam, a former sex worker and Charity One25 volunteer was quoted in HELLO Magazine as saying, "It sounds really cheesy, but little things like that when you are out, especially tonight, just to get that little thing that Meghan took her time out to write that one, it's lush."
The Duchess of Sussex had only impressed people and generated much love to wherever she goes leaving a bit of her Markle Sparkle everywhere. While pregnant in heels, Meghan reportedly trekked in the snow for this secret visit and her sweet banana gesture is once again winning hearts. Between being new parents and their continuing royal engagements, Harry and Meghan are showing no signs of slowing down.