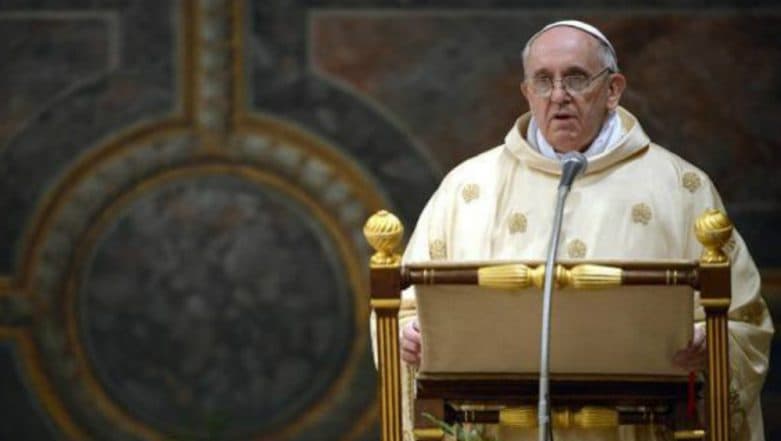 Toronto, April 2: Pope Francis during his visit to the North African country of Morocco, spoke to his followers against proselytising. The Roman Catholic pontiff addressed his followers from Rabat's cathedral on his second day in the Moroccan capital, and said trying to convert people to one's own belief "always leads to an impasse".
This is the first papal visit to Morocco since 1985 and the country has a tiny Catholic population of 23,000. "Christians are a small minority in this country. Yet, to my mind, this is not a problem, even though I realise that at times it can be difficult for some of you," Pope Francis said.
Conservative Catholics have criticised Pope Francis' position against aggressive recruiting of potential converts. He reiterated his stand in Rabat saying, "The Church grows not through proselytism but by attraction," Pope Francis said to applause.
"This means, dear friends, that our mission as baptised persons, priests and consecrated men and women, is not really determined by the number or size of spaces that we occupy, but rather by our capacity to generate change and to awaken wonder and compassion," he said.
Morocco has a majority Muslim population but it is also home to Christians and Jews. Morocco's King Mohammed VI espouses a form of Islam that promotes inter-religious dialogue and rejects violence in god's name. But the country does not recognise Muslim Moroccan converts to Christianity, and proselytising is punishable by up to three years in prison.
Pope Francis praised the monarch for providing "sound training to combat all forms of extremism, which so often lead to violence and terrorism, and which, in any event, constitute an offence against religion and against God himself". Read: Pope Francis Allows Worshippers Kiss His Papal Ring After Viral Video Controversy
The Pope's visit was also marked by Jewish leaders joining Christian representatives in the front row at two events presided over by the Pope and Morocco's King on interfaith dialogue.