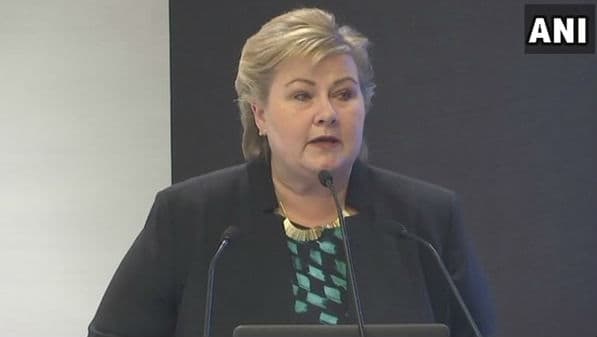 Oslo [Norway], April 24: Norwegian Prime Minister Erna Solberg announced plans to bring back orphans of ISIS terrorists who were Norwegian, to divided reactions across political lines in the country. This comes in the wake of ISIS's recent defeat at the hands of the US and its allied forces in Syria. People from several first-world countries like the UK, France and Norway flocked to the Syria-Iraq area when the ISIS first announced the establishment of a 'caliphate' in the region.
The brides of the terrorists and their children have been left stranded in the region post-ISIS' defeat. The countries they originate from have outright rejected taking them back, citing security concerns."We do not want to bring home Daesh (ISIS) fighters, nor do we want to bring home their wives, but we will try to start with systems to bring home their orphans," she told state media, according to Sputnik.
Solberg's announcement shocked many, as it came as a departure from her earlier stance of calling the repatriation of people related to ISIS as "inappropriate in the current security situation."While her party's right-wing allies have been critical of Solberg's latest announcement, politicians from the other side allege that more needs to be done.
At least 30 jihadists and 40 "Daesh (ISIS) children" with Norwegian affiliations remain in Syria, as per estimations by the Norwegian Police Security Service (PST).The Progress Party, an ally of the Conservative Party, called her decision "unwise" and "disappointing.""People are shocked...This means that we can bring home children who have undergone terrorist training, and that is deeply problematic," Progress Party MP and former Justice Minister Per Willy Amundsen said.
On the other hand, Solberg's Party's Liberal allies welcomed her proposal. In fact, they outlined the need for more to be done."We're not there until all the 40 children have been picked up. I would also urge Erna Solberg to fund a solution for the other children. There is a difference between being an orphan and having a mother in life, but I still believe that we should treat the children equally," the Liberal parliamentary vice president Abid Raja told state broadcaster NRK.
The Christian Democrats, also Solberg's allies said: "The Christian Democrats always take the child's side. It's never the children's fault, regardless of whether their parents are alive or not", party leader Olaug Bollestad said. She added that the Norwegian government "must take responsibility for all of the jihadi offspring," according to Sputnik.