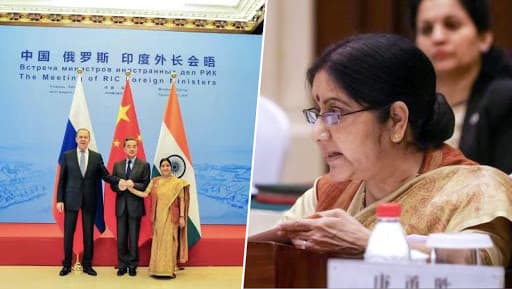 Beijing, February 27: China on Wednesday backed India's position on terrorism. During the 16th Russia-India-China Foreign Ministerial Meeting in Zhejiang, the neighbouring country said that terrorist groups could not be supported and used in political and geopolitical goals. In a veiled reference to Pakistan, China in very strong terms said that "those committing, orchestrating, inciting or supporting terrorist acts must be held accountable and brought to justice. India, Russia, China Issue Joint Statement Against Terrorism During Tri-Lateral Summit at Zhejiang, Without Naming Pakistan.
All the three countries in a joint statement said, "The Ministers strongly condemned terrorism in all its forms and manifestations." The nations also urged the international community to strengthen UN-led global counter-terrorism cooperation by fully implementing the relevant UN Security Council (UNSC) resolutions and the Global Counter-Terrorism Strategy. The countries also asked the world to cooperate in accordance with the Charter of the United Nations and the principles of international law, while respecting sovereignty and independence of all states, and expeditiously finalizing and adopting the UN Comprehensive Convention on International Terrorism at the earliest. US Asks Pakistan to Take Meaningful Action Against Terrorist Groups Operating in its Soil, Appeals to India to Maintain Peace.
The meet was attended India External Affairs Minister Sushma Swaraj, Chinese Foreign Minister Wang Yi and Russian Foreign Minister Sergey Lavrov. Earlier, Swaraj asserted that terrorism is a threat to humanity. She said, "You heard the address by Mr Wang Yi, in which he said that  they would cooperate to eradicate breeding ground of terrorism & extremism.  It's not just a joint strategy but also our commitment...Terrorism is a threat to humanity, so strategy by the 3 countries is not enough." Swaraj was co-chairing the 16th Russia-India-China Foreign Ministerial Meeting with Russian FM Sergey Lavrov and Chinese State Councilor & FM Wang Yi.
(With inputs from ANI)