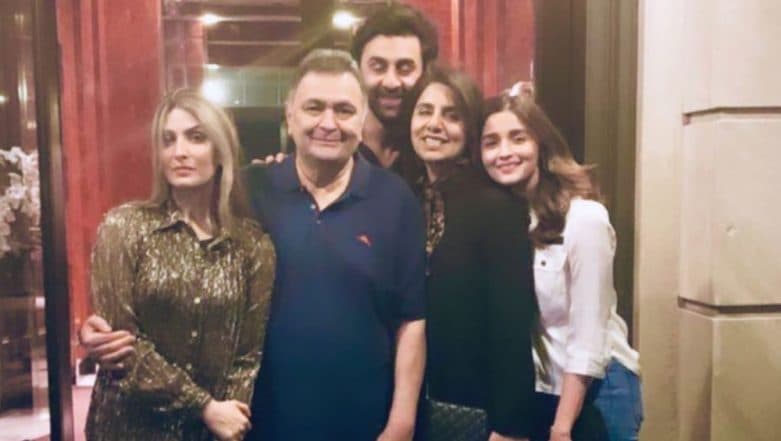 Alia Bhatt and Ranbir Kapoor are currently one of the hottest couples in Bollywood. The duo are at the top of their careers and are in happy space personally too. Recently, the Brahmastra couple flew to New York to meet Ranbir's parents, Rishi Kapoor and Neetu Kapoor. Since actor Rishi Kapoor has been undergoing his treatment for cancer in US, several celebrities and family members keep meeting the actor whenever in New York. Looks like, Ranbir and Alia wanted to spend some quality time with family too. Alia Bhatt on Dating Ranbir Kapoor: It's Not a Relationship, It's a Friendship.
In an adorable picture shared by Ranbir's sister, Riddhima Kapoor Sahni, Alia Bhatt is seen sharing the frame with the Kapoor family and it's a perfect picture. Ever since they made their relationship official, Alia has been spending time with Ranbir's family quite often and we think there may be wedding bells soon after Rishi Kapoor's recovery. Riddhima posted this picture with a heart emoji and tagged her husband who was the only one missing in the frame to make it a complete family picture.  After the picture was all over social media, several fans commented calling Alia the 'Kapoor Bahu' and asking about the wedding date.
Check out the picture here:
View this post on Instagram
She also shared another picture with Aishwarya Rai Bachchan, Abhishek Bachchan and their daughter Aaradhya are also seen posing with Ranbir, Alia and other members of the Kapoor family. In the picture, Aaradhya is seen sitting in Rishi Kapoor's lap. Aishwarya and Abhishek are all smiles with Ranbir, Alia and Neetu Kapoor in this picture. Ranbir Kapoor and Alia Bhatt's Recent Airport Look Had the Couple Color Coordinating in White - See Pics!
Check out Abhishek, Aishwarya and Aaradhya meet Rishi Kapoor, Neetu Kapoor, Ranbir and Alia:
View this post on Instagram
Here's another picture of Alia, Ranbir, Aishwarya and Ranbir with Rishi Kapoor:
In a recent interview with Bombay Times, Alia Bhatt opened up about her relationship with Ranbir and had the sweetest thing to say. She said, "I'm walking on stars and clouds right now. The best part is that we're two individuals who are living our own professional lives in its full form right now. He's shooting continuously. So am I. It's not a situation where you'll see us constantly together. That's the true mark of a comfortable relationship. Nazar na lage."