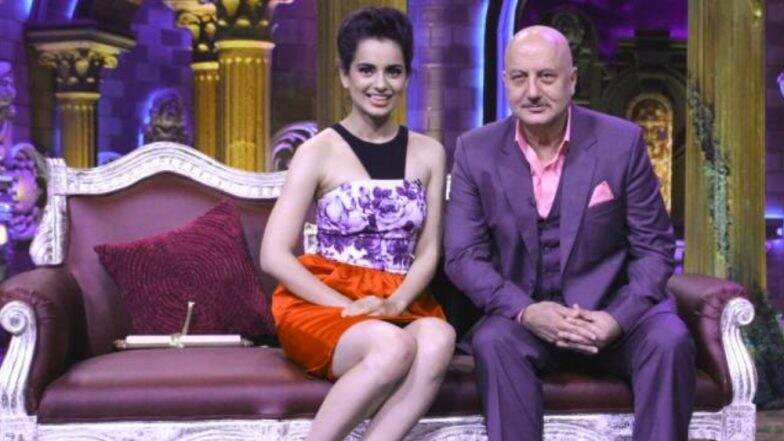 Kangana Ranaut has once again ruffled some feathers in Bollywood. At this point, this doesn't even come as news. But what does comes as news as one Bollywood celebrity has finally extended his unabashed support to the actress. While Kangana is going on and about how Bollywood celebs, especially Alia Bhatt, have not supported her and her film Manikarnika, a veteran actor has actually taken the effort to praise the Queen. The man of the hour is Anupam Kher. The Accidental Prime Minister actor took to his Twitter handle and called Kangana the 'real example of women empowerment'.
Anupam was travelling to Atlanta, taking an early morning flight, and thought it would be a great idea to do Q&A session with his fans. One of the fans asked him to say a few words about Kangana now that no one in Bollywood is supporting her. Anupam did not dodge the question like many celebs would have. He replied, "Kangana Ranaut is a rockstar. She is brilliant. I applaud her courage and performances. She is also the real example of women empowerment,"
Kangana sure must be feeling happy about this tweet. If she was on Twitter, we would have loved to see her reply to well-worded compliment. Kangana Ranaut or Alia Bhatt – Who Do You Support in This 'Appreciation' Controversy? Vote Now!
#KanganaRanaut is a ROCKSTAR. She is brilliant. I applaud her courage and performances. She is also the real example of #WomenEmpowerment.:) https://t.co/WeFgWsdiSW

— Anupam Kher (@AnupamPKher) February 9, 2019
Kangana has stirred up a new controversy by calling out Alia Bhatt for not supporting Manikarnika. In a recent interview, she said, "I reached out to Alia (Bhatt) and asked her what makes her think Manikarnika is my personal controversy, it's a film whole nation is talking about and wondering why Bollywood is keeping quiet on such a relevant work......I asked her if I can be courteous and gracious to acknowledge her requests for encouraging relevant work that she does, why is she so scared to see my film. I suggested that she grows some spine and support an important film about woman empowerment and nationalism.."
Manikarnika: The Queen of Jhansi might just make Rs 100 crore if it could rake in some more money at the box office before new movies release. The grand total of the movie after 14 days was Rs 84. 55 crore. Let us see what the coming week holds for the Kangana Ranaut film. Next Friday, Alia Bhatt's film Gully Boy will open in theatres.