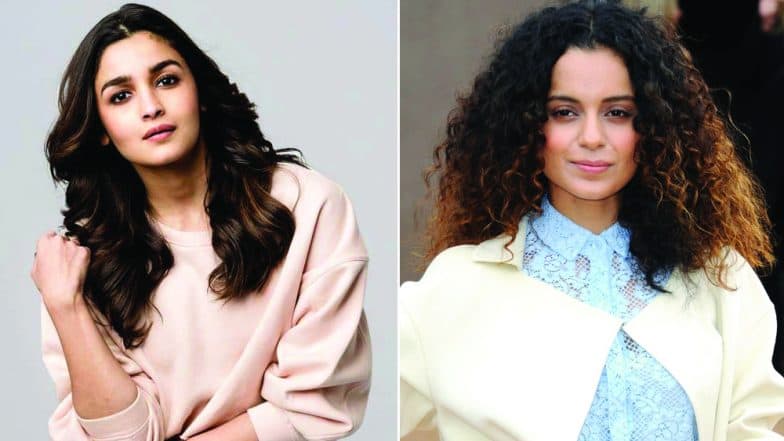 Kangana Ranaut is hell-bent on taking the war with the big-wigs of Bollywood, after the release of her film, Manikarnika. The whole movie itself was shrouded in controversy, thanks to the fracas between its two directors, Krish and Kangana. After the release of the film, Kangana has been asking everyone why no one from Bollywood had come ahead and appreciated the film, or come out in support of her during the controversy, while taking names of Aamir and Alia. Strangely, the National award-winning actress has reiterated in the past that she really doesn't need any support from her peers. Kangana Ranaut Shoots Another Controversial Statement, Says She Will Expose Each One in Bollywood for Ganging Up on Her.
Now her recent cause of annoyance is Alia Bhatt. During the Gully Boy promotions, Alia was asked about Kangana's accusations that she didn't get any support from Bollywood. To which, she replied, "I hope she doesn't dislike me and I don't think she dislikes me. I don't think I have done anything intentionally to upset her. If I have, I will apologise to her on a personal level. But I have always said that I have admired her a lot as an actor and a person. She is very outspoken and it takes courage to be that way. I wasn't aware of this problem or anything, I was busy with the shooting. So yes, what can I say, I don't want to upset anybody." Alia Bhatt Reacts to Kangana Ranaut's Statement About Bollywood Ignoring Her, Says'I Wasn't Aware That I Had Upset Her'.
In response to this comment by Alia, Kangana spoke at an event, where she asked the young actress to grow a spine and stop being Karan Johar's puppet. She said, "I asked her if I can be courteous and gracious to acknowledge her requests for encouraging relevant work that she does, why is she so scared to see my film. I suggested that she grows some spine and supports an important film about woman empowerment and nationalism...if she doesn't have a voice of her own and her existence is all about being KJo's puppet then I don't consider her successful." Kangana Ranaut Blasts Alia Bhatt on Phone Call, Asks Her to Grow Spine and Stop Being Karan Johar's Puppet!
Now we are not taking sides here, but we can easily find faults in both sides. So we ask you, readers and fans, who do you think is at fault here  - Alia or Kangana? Vote for the person you want to support!
Meanwhile, Kangana has also claimed that she is going to expose each and every one of 'them' in Bollywood. She had said, "These people should be ashamed of themselves. Some of them are my grandfather's age. And these Bollywood, I used to call out them for small things like nepotism, sexism and pay parity but, now I will get after their lives. I'll expose each and every one of them. Bollywood has called for trouble by ganging up on me."