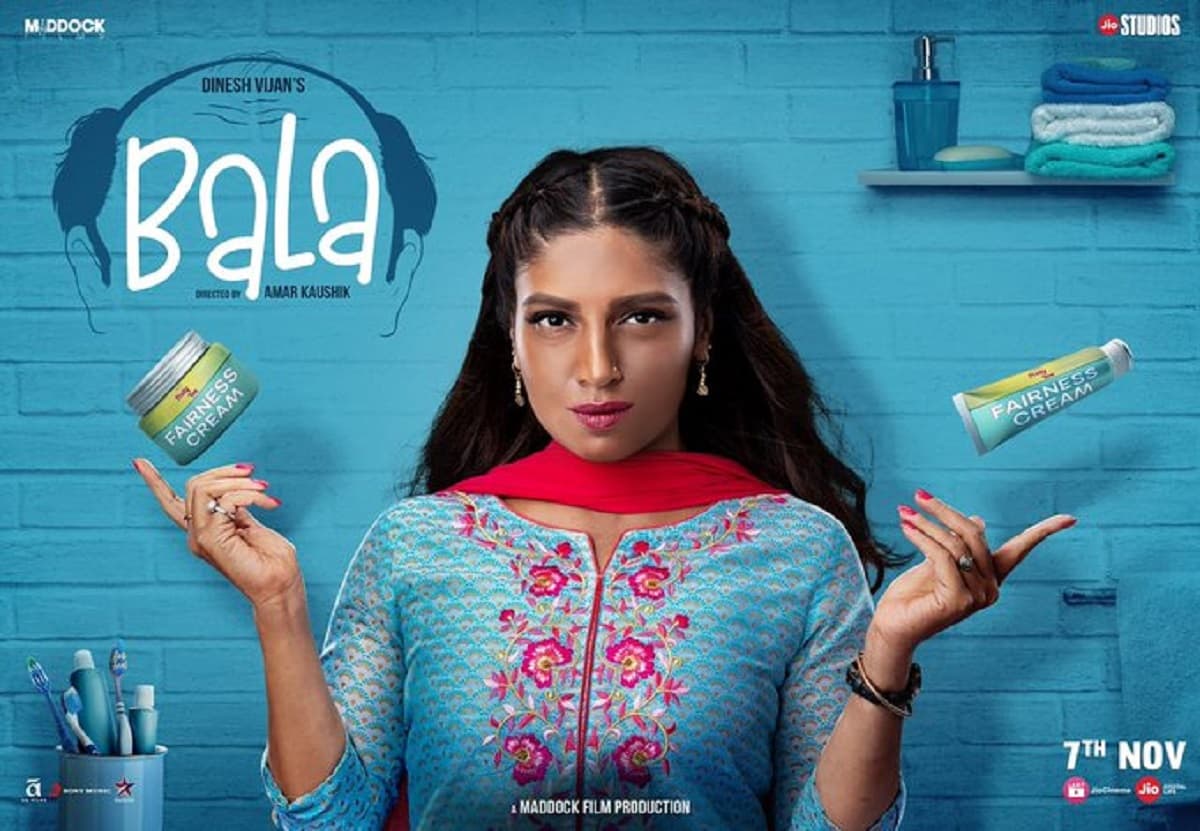 Bala, starring Ayushmann Khurrana, Yami Gautam and Bhumi Pednekar, addresses a topic of premature balding in men. Yesterday, the trailer of the film was released. Apart from praising the premise, Twitter users have also found something deeply offensive. Bhumi has been shown as a dusky girl and that's what is bothering people. Turning a fair skinned girl into a dusky beauty has left them enraged. Bala Movie Trailer Funny Memes Are the Best Medicine If You Need a Laugh, Even Ayushmann Khurrana Would Agree!
Bhumi plays Ayushmann's friend in the film. What made the folks even more angry is her poster. She is shown as someone throwing away fairness creams and calling herself 'Bald ki dost, Bold' and yet her complexion has been made many tones darker to suit the purpose. The question everyone's asking is, why couldn't makers go for a dark skinned actress.
Check out some reactions here...
It's Not OKAY!
Dear Bollywood, painting your face brown to play dark-skinned people is NOT ok!

Hrithik Roshan in #Super30 Super30 and now Bhumi Pednekar in #Bala! https://t.co/AAV6JwoL9C

— Shilpa Kannan⚡️ (@shilpakannan) October 10, 2019
Where are the dusky actresses in Bollywood?
Why not just cast a dusky actor instead? Rather than brown washing the fair ones? https://t.co/DdtWI9bUjr

— Geetika Rustagi (@geetiga) October 10, 2019
Brownface Bhumi...not cool!
Amar Kaushik's upcoming film #Bala looks great! Ayushmann Khurrana is delightful as usual. But why #brownface Bhumi Pednekar? Wouldn't it have been better to hire a dusky actress who'd fit the role? pic.twitter.com/0YbTLu1GeA

— Prajakta Hebbar (@imsopraj) October 10, 2019
Fairness obsession is a thing!
HOLY SHIT BOLLYWOOD IS MAKING A STATEMENT ON FAIRNESS OBSESSION BY CASTING A FAIR-SKINNED WOMAN TO PLAY A DARK-SKINNED WOMAN IN BROWNFACE OH MY GOD WHY IS THIS INDUSTRY https://t.co/L9DeJq0c8z

— Bhaskar Chawla (@BhaskarSirius) October 10, 2019
No learning experiences
Do y'all ever learnhttps://t.co/tdKAGU8I8L

— Archisha (@Archisha17) October 10, 2019
Don't be like this!
I'm so sorry but this dark makeup.. is so wrong. Cast dark skinned actor if it's important for story.. but don't do like this..

— ми-ℓ 🌵 (@miraclelife25) October 10, 2019
Here's a solution...
— priya (@shilpa82966739) October 10, 2019
We know any publicity is good publicity but Twitter users don't always troll. They also make valid points and this sure is one of them!