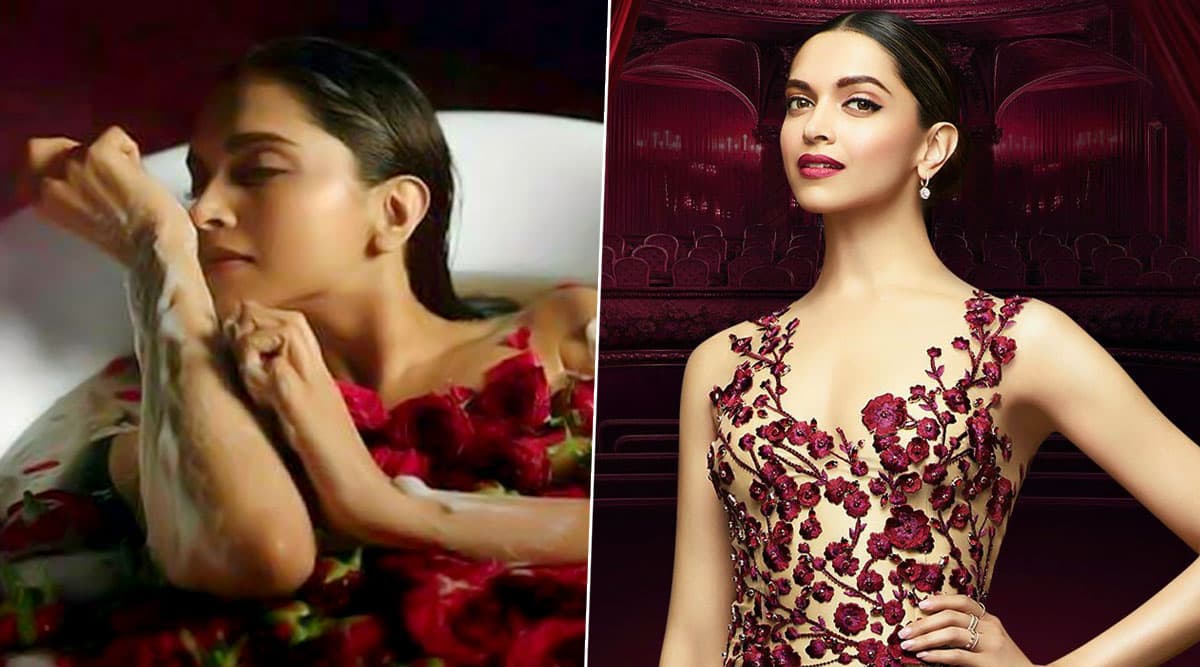 Deepika Padukone is trending on social media for a few days now. The actress showed her presence at the Jawaharlal Nehru University (JNU), where she stood in solidarity with the students. The silent presence for 10 minutes here made more noise on social media, just ahead of her film Chhapaak's release. Trolls endlessly trolled her for supporting the students and started trending topics like #BoycottChhaapaak, Block Deepika and more. The latest one that is trending is #दीपिका_हटाओ_LUX_बचाओ. The trolls are demanding the soap brand, Lux to remove her as their brand's face. Deepika Padukone Makes a Dazzling Appearance In Yellow as She Attends a Photography Exhibition (View Pics).
DP has been promoting the brand for some years now, joining the bandwagon of many other A-lister Bollywood beauties who did the same for decades. Her association with the brand was celebrated by the fans until today. However, her presence at JNU has divided the fans on social media. While some of them are calling this a baseless trend, others are asking the brand to take it seriously. Just like the usual routine of the internet, it is flooded with memes and jokes as well.
Troll Trying To Save Lux
Remove deepika from lux advertisement and save Lux! #दीपिका_हटाओ_LUX_बचाओ #दीपिका_हटाओ_LUX_बचाओ pic.twitter.com/NKrDIXB1xk

— Kunj Bhavsar (@KunjBhavsar1) January 13, 2020
Meme!
Lux company right now😀👇🏻

#दीपिका_हटाओ_LUX_बचाओ #दीपिका_हटाओ_LUX_बचाओ #दीपिका_हटाओ_LUX_बचाओ #दीपिका_हटाओ_LUX_बचाओ pic.twitter.com/8VFK69eSnG

— ठा० वाशु चौहान (प्रधान) (@vashuchauhan62) January 13, 2020
More From the Lot
Don't want Deepika #दीपिका_हटाओ_LUX_बचाओ

— hippie holaa (@hippiie_soul) January 12, 2020
One For HUL
Dear @HUL_News

Pls use your own brain b4 taking action on #दीपिका_हटाओ_LUX_बचाओ as ppl running this # r sanghis who use either Gober, mud or Patanjali soaps. Lux is a brand of youths, brand of intellectuals & brand of well educated people who has wisdom 2 differentiate bw ✔️& X

— Jaane bhi do Yaro (@mat_jane_de_yar) January 13, 2020
Gull Boy Meme
Ranveer to Deepika after the JNU incident. #दीपिका_हटाओ_LUX_बचाओ pic.twitter.com/io2y6Ya8uD

— Anwar Shaikh (@iamandy1987) January 13, 2020
Chennai Express Dialogue
I can remeber a dialogue from #ChennaiExpress

SRK: Hey Meenamma Don't Underestimate the power of a common man!

This proves it. #दीपिका_हटाओ_LUX_बचाओ

— Th3 JöK©R (@shaon_roy13) January 12, 2020
One Who'll Never Use Lux Again
Agreed Sir,@PuspendraKulshr My country(India) is every thing for me,Albeit I don't give them extra attention because their welfare comes first then the country but I'll never use lux unless action doesn't take place against her, #दीपिका_हटाओ_LUX_बचाओ

— Varun (@VrunPROUDINDIAN) January 12, 2020
Copy-Paste Format of Trolls
Trend alart

👇👇👇👇👇👇👇👇👇#दीपिका_हटाओ_LUX_बचाओ

दिपिका लक्स कि ब्रांड अम्बेसडर है इसलिए लक्स का विरोध किजिए

इस ट्रेंड पे ज्यादा से ज्यादा tweet किजिए

Please copy paste @Real_Anuj @Real_Atul1

— K.K Sengar (@sengar_krishan) January 12, 2020
Earlier, the trolls were hurling negative comments on the actress with the hashtag #DeepikaPRBackfires. For the uninitiated, the star was seen at the university just a few days before Chhapaak's release. This was seen by many as the 'PR gimmick' by the Chhapaak makers to promote the film in disguise. However, many also lauded the actress for taking a bold stand as well. When Deepika's film earned lesser than Ajay Devgn's Tanhaji: The Unsung Warrior that released on the same day, she was trolled for the same. Coming back to the Lux controversy, it has to be seen whether the brand gives an official statement over the same or not.