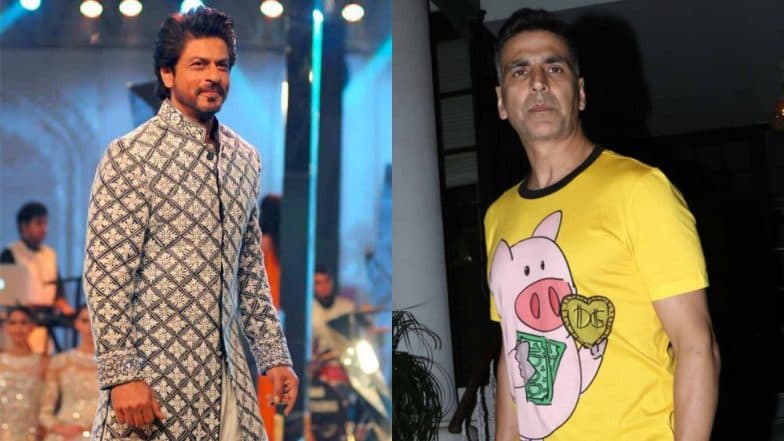 There are so many Indian superstars who have not shared the screen space. While we might have had the delight of seeing Shah Rukh Khan and Salman Khan on screen together, we are not lucky enough to have seen SRK with Aamir Khan or Akshay Kumar. We don't know what is the deal with Shah Rukh not working with Aamir. But it turns out, different sleep patterns is what has kept him from working with Khiladi Kumar In an interview with DNA After Hrs, SRK was asked if he'd ever work with Akki and the king of wit responded with a joke. Rs 100 Crore Club: Salman Khan, Akshay Kumar, Shah Rukh Khan, Ranveer Singh – Top 10 Bollywood Actors (Male) With Maximum Number of Films, Ranked.
He said, "I go to sleep when Akshay is waking up. His day starts early. By the time I start working, he is packing up and going home. So he can put in more hours of work. I'm a nocturnal person. Not many people are fond of shooting at night like me."
But that doesn't mean he is not ready to star in a film with Akshay. Shah Rukh Khan added, " It will be fun to act with Akshay. Dono set pe hi nahin milenge. Woh jaa raha hoga aur main aa raha hounga (laughs). He'll be leaving the set and I'll be coming in. I would like to work like Akshay and with him, but our timings won't match."
So, if some filmmaker can work out a script where the two stars would never be in the same frame we might get to see Akshay and SRK in the same movie. Maybe Red Chillies VFX could also put them in the same frame shooting their scenes separately. Those are just our ideas at the top of the head.
If we talk about their upcoming films, Akshay Kumar has his roster full. He has finished shooting for Kesari, the movie based on the Battle of Saragarhi. He has started shooting for Karan Johar's Good News and Rohit Shetty's Sooryavanshi already.
On the other hand, Shah Rukh Khan was last seen in Aanand L Rai's Zero, which received a lukewarm response from the fans. He was supposed to star in the Rakesh Sharma biopic titled Salute, but he bowed out of the project for reasons best known to him. The actor is yet to announce his next project.