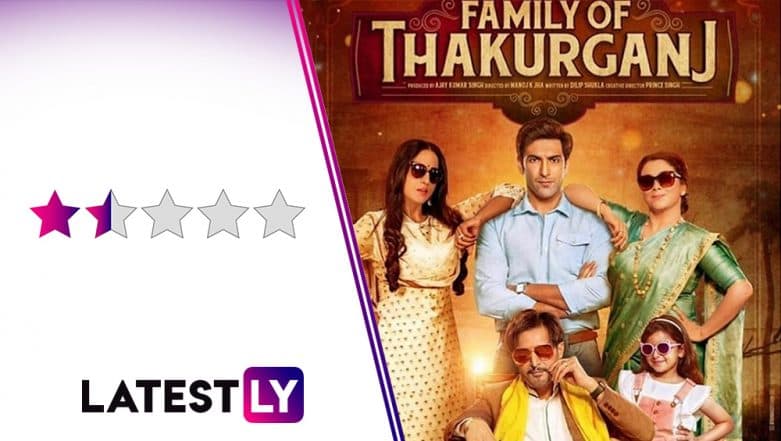 Family of Thakurganj Movie Review: Blame it on Gangs of Wasseypur! Ever since Anurag Kashyap's sprawling gangster drama became a cult phenomenon, nearly every crime movie set in Uttar Pradesh made since wants to be a wannabe GOW. Most of them end up being at loss at understanding what made Gangs of Wasseypur so great - its cult characters, dark humour and unexpected thrills. This week's release, Family of Thakurganj is yet another attempt to replicate the formula of GOW. What we get though is a gangster drama that is shorn of logic, nuance and good execution. Guns, Goons and Gaalis: Jimmy Shergill & Mahie Gill's 'Family Of Thakurganj' Ain't Replica Of 'Saheb, Biwi Aur Gangster' Franchise!
The titular 'Family of Thakurganj' is headed by Nannu Bhaiyya (Jimmy Sheirgill), a respected and feared crime lord, who is unfortunately saddled with a laughable name. Though no one in the film finds nothing ridiculous about it. I don't know how the people surrounding Nannu Bhaiyya do not end up snickering whenever they take his phallus-sounding moniker. Especially, when they have to utter lines like 'Nannu toh bil mein gus gaya hoga' (Nannu must have gone hiding in a hole) in all seriousness. Ah, well, at least it's not direct-sounding 'Nunnu'.
Nannu's domineering wife Sharbati (Mahie Gill) is an equally formidable figure and so is his mother (Supriya Pilgaonkar). He also has a little daughter and an honest, do-gooder younger brother Munnu (Nandish Singh), whose idea of sincerity means getting rid off any sort of personality.
Being in the line of kidnapping, land-grabbing and extortion, Nannu has a varied sort of foes. There is Baba Bhandari (Saurabh Shukla), his mentor whose duplicity can be smelt from a mile away. Nannu's biggest challenger is his rival, Phatak (Mukesh Tiwari), whose ire towards him is never explained. There is also a corrupt cop (Yashpal Sharma) and a drunk, sleazy killer Ballu Thapa (a hammy Raj Zutshi).
At home, Nunnu often has an ideological clash with his brother, who fears for his sibling's life. Munnu also has a love story with Suman (Pranati Rai Prakash), an ad executive, who is more annoying than spams on a shady website.
With so many characters, Family of Thakurganj, scripted by Dabangg fame Dilip Shukla, has the potential to be an explosive thriller of tense rivalries and deceptions. Instead, what we get is an unintentional comedy that wastes the best of its talented cast.
For a movie that is called 'Family of Thakurganj', it spends more time with the villains than the hero and his family. But then it is the opposite side who has more interesting characters than the 'Family' where only Nannu (snicker, snicker) is the somewhat intriguing one.
Despite the casting of Saheb Biwi aur Gangster pairing of Jimmy and Mahie as a married couple, there is very little time spent in exploring their relationship. Instead, more time is invested in Munnu and his irksome, half-baked romance with Suman.
Since Munnu is one of the main leads and has an integral part in the proceedings, especially in the second half, he should have been as absorbing a character as Anil Kapoor was in Parinda or Nawazuddin Siddiqui in Gangs of Wasseypur. The fact that he isn't, has more to do with the sloppy, disinterested way his character is written and Nandish Singh's bland performance. It isn't that the rest of the characters are well-defined, but they are more or less saved by the actors portraying them. Which isn't the case with Munnu, and that's the major failing with Family of Thakurganj, or rather one of its many!
At times, it is difficult to follow where exactly the movie is heading towards, thanks to the haphazard scripting, direction and editing. Rivalries and change of hearts are established with very little conviction. For example, it is unbelievable to think that a hard criminal as Nunnu would change his way of living because his brother makes one stoic speech about honesty. Doesn't this man know that what he is doing his whole life has never been morally right in any way?
There is also a feeling that Family of Thakurganj wants to try the dark humour that Gangs of Wasseypur excelled in. But the director (Manoj K Jha) takes the film too much seriously while also attempting to be quirky. The end result is that we end up laughing more at the movie than with it. Even though the seasoned actors in the cast do their best to make this film look formidable, the junior artistes and extras used here put up some ridiculously laughable acts and ruin some decent scenes in the process.
Many scenes are juxtaposed upon each other in a very abrupt, harried manner. It's as if the editor was in a rush to go somewhere, cutting every scene in a way that it immediately goes to the next, without letting the previous scene sink in the viewer's mind. And even in a single scene, you can expect more than 15 cuts in half a minute. The funny part is, even with this harakiri of hazy editing, Family of Thakurganj drags for nearly all its screentime that last 132 minutes.
Things get a little bit interesting with the entry of SP Rathore (Pavan Malhotra), who arrives to investigate an encounter. The makers insert some sort of suspense in the proceedings from thereon, though it isn't that difficult enough to guess what's happening. There is a needless monologue about the sacrifices of cops inserted in between, and there is no explanation given as to how a character carries out his vendetta. Yet, at least, these portions fare better than the rest of the movie.
The Performances
The biggest intrigue factor I have about the film is what's it about Family of Thakurganj that managed to convince some very fine actors to be a part of its drollness. Among the cast, Saurabh Shukla stands tall as the devious kingpin, who make even the most inane scene feel remotely watchable with his excellent act. He feels more committed to the movie, than the movie to him or his character. Jimmy Sheirgill fares well, though his character should have allowed him more room to spread his wings. Jimmy is a fine actor who can steal the show if given a well-written character. But the kind of movies that he is doing these days as the lead, Jimmy might end up being to this decade. what Mithun Chakraborthy was to the '90s.
The movie does little justice to the talents of Mahie Gill, though she does her best on the rare moments the spotlight falls on her. I wonder what made the versatile Supriya Pilgaonkar agree to be a part of it. While her character has its moments, she is more or less wasted.
The weakest link in the film is, indubitably, Nandish Singh whose meandering performance lets down the film when it falls on his shoulders. For some reason, his face also feels very photoshopped. I am not kidding! Pranita Rai Prakash plays her role a little bit more animatedly than what was needed. It is high time for the makers to ditch their obsession of making their heroines behave like Geet from Jab We Met. Pavan Malhotra leaves an impact in his brief role.
Yay!
- Saurabh Shukla
- Some of the Supporting Cast
- A Couple of Interesting Scenes
Nay!
- The Weak Parallel Lead
- Unfocused Writing and Direction
- Lack of Intentional Dark Humour
- Bad Editing
Final Thoughts
Family of Thakurganj tries to be both Gangs of Wasseypur and Saheb Biwi Aur Gangster, without figuring out what it is about these movies that made them such cult favourites. More than a gripping crime drama with oodles of dark humour, Family of Thakurganj become an unintentional farce that wastes some really fine talent.