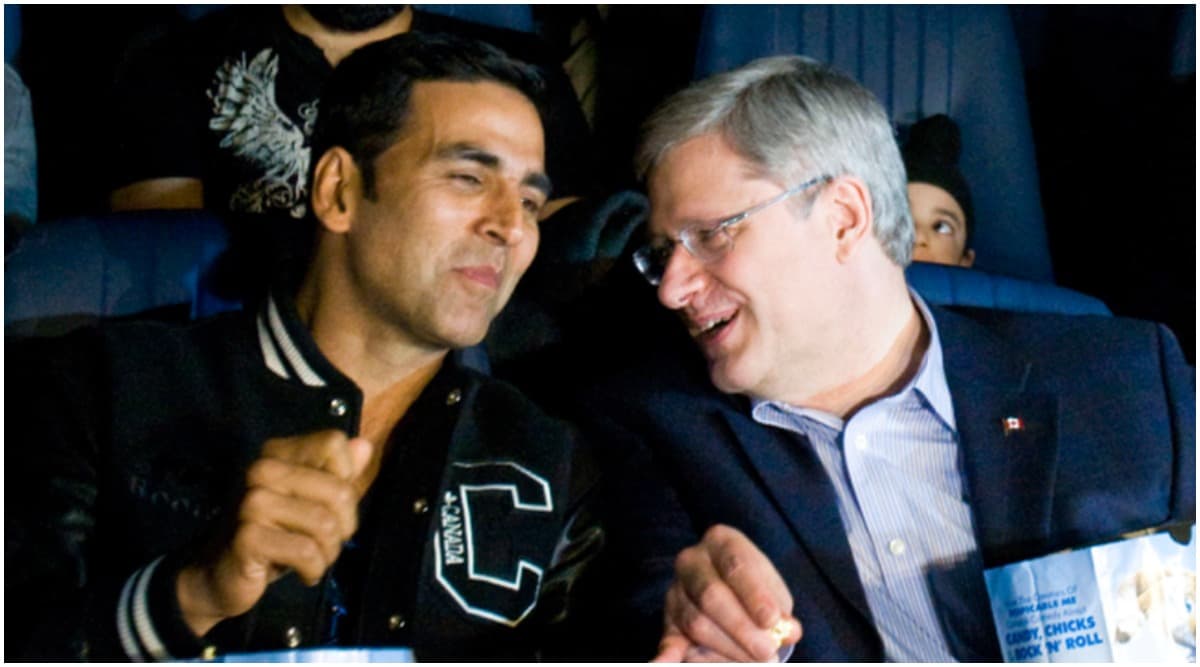 Akshay Kumar's Canadian Citizenship debate has often been very murky, more so because the National Award-winning actor (for Rustom) often keeps contradicting why he picked up another country's passport. After months of denial, he first claimed that he had dual citizenship, but the Indian constitution doesn't allow that. Then he claimed he was offered Honorary Citizenship, but a little checking of this revealed that he is not in the list that only has six eminent personalities. Then a few months back, Akshay, in a tweet, finally admitted that he has Canadian citizenship, but he insisted that he is as Indian as anyone in this country, and that his passport shouldn't be anyone's concern. Akshay Kumar's Canadian Passport Saga: 3 Times Kesari Actor Defended His Citizenship in the Past That Contradicts His New Stance.
Now, during the 17th Hindustan Times Leadership Summit in New Delhi, Akshay once again raised the controversy surrounding his citizenship. On being asked about the issue, Akshay now reveals the reason why he took up Canadian citizenship.
Speaking at the summit, he had said, "There was a time when I had 14 flops in a row and I was wondering what to do. One of my closest friends who stays in Canada told me 'come here and we will work together'. I started the process to get a Canadian passport because I felt my career was finished and I won't get more work here. But my 15th film worked and I never looked back. I never thought of changing my passport." Akshay Kumar Narrates the Story Behind His Canadian Citizenship, Reveals that He has Applied for an Indian Passport.
A fair reason enough, unless you think this of a plot of Ajnabee and look into enough loopholes into the argument. First of all, if he says that he 'never looked back' after his 15th film worked, what was the below video all about?
I also must tell you one thing, This is my TORONTO is my home. When I retire from Bollywood Industry, I'll shift here with all my wealth. (2018) pic.twitter.com/pFZLBi8SUp

— History of India (@RealHistoryPic) December 23, 2018
As you can listen in the video, which reportedly was taken last year, Akshay calls Toronto his 'home' and plans to return there after he retires.
Okay, let's give the benefit of the doubt that Akshay had only said so to please his fans in Toronto. Instead, let's look at his new reason. As per what Akshay said, he took up citizenship in Canada, when his 14 films flopped back to back. If we look at his filmography, that came in the late '90s when a spate of his films like Sapoot, Angaaray, Sangharsh, International Khiladi, Barood all flopped, till Hera Pheri arrived in 2000 and gave him a much-needed hit. After that, Akshay didn't see such a long streak of flops.
Now I don't know if 14 flops are enough for you to take a job elsewhere, but to each his own. But it is not difficult to deduce that Canadian Citizenship isn't as easy to get as buying an ice-candy from a shop.
To become a Canadian citizen, you need to fulfill certain requirements. (Sourced: Immigration.ca)

Now we are pretty sure that Akshay, who has been very busy in Bollywood for the past three decades even when his movies were flopping, didn't physically stay in Canada for three years.
And then again, there is still a way for him to gain Canadian Citizenship. As per Immigration.ca, section 5 of the Canadian Citizenship Act, citizenship can be granted 'to reward services of an exceptional value to Canada'.
Here's where things became interesting. We got to read an article published in May 2019 in a popular Canadian website, National Post that provides more insight into Akshay's Citizenship issues. As per the article, Akshay received his Canadian passport around the time when Stephen Harper, Justin Trudeau's predecessor, was the Prime Minister of Canada. Akshay who has a close connection to the country since 1995, also has close ties to Harper's Conservative Party. Harper had served the officer from 2006 to 2015.
It was in 2010 when Akshay Kumar was appointed as the Canadian Tourism Commission's (CTC's) new tourism ambassador for India. A year earlier, that is in 2009, he had run with the Olympic flame in Ontario, Toronto. In 2011's federal elections, Akshay Kumar even campaigned for Harper, and later, Harper won the elections with thumping results. Have to say, Akshay is quite lucky when it comes to PM's, be it in India or Canada.
Anyway, National Post claims that Akshay was granted Canadian Citizenship during this period, when Harper's government used section 5 of the Canadian Citizenship Act to make it happen.
This may not fit with Akshay's claim that he applied for citizenship when he was going through 14 flops, though. National Post retrieves a 2010 quote from MP Tony Clement, who was an Industry Minister in Harper's cabinet then, where he said Akshay's citizenship was a thank you gift from the government. He had said, "He (Akshay Kumar) had offered to put that star power to use to advance Canada-India relations, our trade relations, our commercial relations, in the movie sector, in the tourism sector. He earned it… He has a great attachment to Canada as well as India, so he was doing all this free work." This was told around the time when Akshay was appointed as Canada's tourism ambassador for India. Now it kinda makes sense why Akshay used to keep saying that he has been offered 'honorary' citizenship.
Further to the story, the article claims, this development had created some furore in the country because Akshay's citizenship was pushed ahead of others whose applications have been pending for years. The question here is, if Akshay had been granted citizenship around 2010, then why is he claiming that he decided to switch citizenship when he was going through a low phase? If you look at his filmography then, then Akshay's box office pull was on a rise. That very same year, he had given a hit in Housefull. So Akshay's new statement is making us scratch our heads more.
With the actor being trolled at every opportune moment over the citizenship, Akshay claimed at the HT summit that he has now applied for Indian passport again. He had said, "I have now applied for the passport. I am an Indian and it hurts me that I am asked to prove that every time. My wife, my children are Indian. I pay my taxes here and my life is here." Pretty sure that whenever Akshay gets his Indian passport, I am surprised it is taking this long, he will tweet a picture of that for sure.