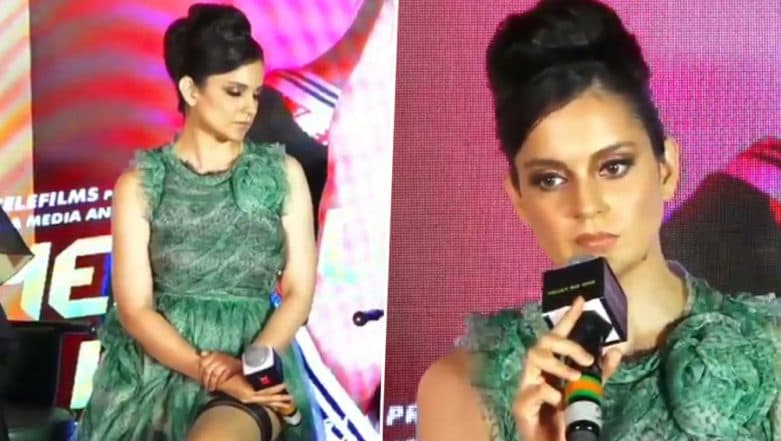 Kangana Ranaut has landed up in a fresh controversy. This time it is because of the actress' latest interaction with a journalist during the song launch of her upcoming film, Judgemental Hai Kya. During the recent event held in Mumbai, Kangana accused a journalist of running a smear campaign against her. The two indulged in a war of words and the video of Kangana bashing the journalist is now going viral. The fight took an ugly turn after Kangana claimed the journalist gave her film, Manikarnika a negative review. Kangana Ranaut Reacts to Zaira Wasim's Decision To Quit Bollywood.
The actress seemed to lose her cool when the journalist introduced himself and started to accuse the reporter of bashing her film. She said, "You are bashing my film Manikarnika. Have I made a mistake by making a film?" Kangana further added, "You are calling me a jingoistic person for making a film on nationalism."
To which the journalist replied that he hadn't tweeted anything along the same lines and further replied to her saying, "You cannot intimidate a journalist because you are in a power position."
Further, in the video, we see Kangana saying that the journalist was harming her brand and he had conducted smear campaigns against her.
Check out the viral video here:
View this post on Instagram
The spat between Kangana and the journalist out of hand after the actress accused him of several things including having lunch with her during a three-hour interview which the journalist consistently denied. In the video we also see Ekta Kapoor intervening in between but is seen looking helpless after actress continues to take potshots at the journalist. Also present at the event was Kangana's co-star Rajkummar Rao who is seen sitting calmly beside her in the video. The Wakhra Song Teaser from Judgementall Hai Kya: Kangana Ranaut and Rajkummar Rao's Party Number to Be Out Tomorrow! Watch Video.
It seems Kangana has been irked with the journalist since quite a while now. It all started when at the Manikarnika press conference, the journalist asked Kangana why Manikarnika was released in Pakistan despite her bashing Shabana Azmi for organising an event in Pakistan after Uri attack.