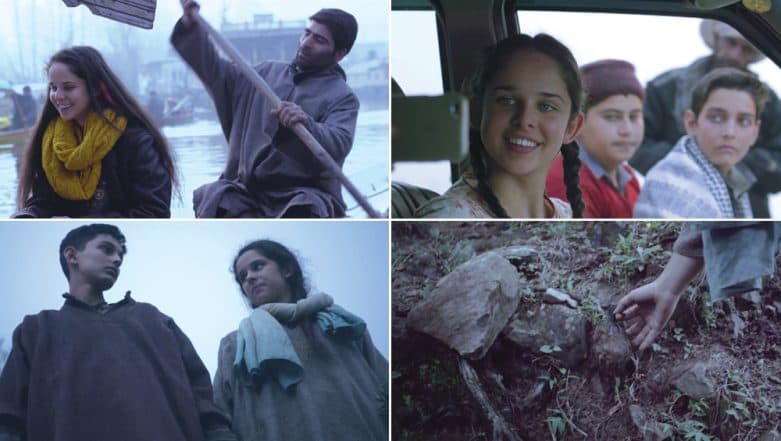 Oscar-nominated film-maker Ashvin Kumar (Little Terrorist) was having troubles releasing his latest movie for nearly eight months. The makers argued that the Censor Board was giving them a hard time giving them a certificate. Now that the matters have been cleared, No Fathers in Kashmir is now getting a release date on April 5, and we also have the first teaser from the film. It has been revealed by Alia Bhatt on her birthday, since the actress' mother, Soni Razdan is also a part of the film. Shaheen Bhatt Shares a Super-Cute Video of Baby Alia Bhatt and That's The Best Gift Any Sister Can Give!
No Fathers in Kashmir is about a British-Kashmiri girl who comes to the valley in search of her missing father. In the process, she meets a young boy who falls for her and takes her to the strife-laden regions that land them both in trouble. The promo shows the innocence of their burgeoning romance set in the lovely locales of Kashmir, before things take a serious, nearly fatal turn among the pine trees. Like the tagline promises, this will be a Kashmir we think we know but the youngsters will show a different one. No Fathers in Kashmir NOT Banned by CBFC; the Censorship Body 'Disappointed with Misinformation Being Spread'.
Watch the teaser of No Fathers For Kashmir below:
The teaser of No Fathers in Kashmir uses the popular Kashmiri folk song, "Hukus Bukus" to give the right mood. Interestingly the same song is also used in crucial moments of two other movies set in Kashmir - last year's Laila Majnu and the recently released, Hamid. Also, both Hamid and No Fathers in Kashmir deal with the lives of people in the valley caught between militants and the Indian army.
Check out Alia Bhatt's tweet sharing the teaser of No Fathers in Kashmir:
What a grt bday gift mum @sonirazdan gave me! The teaser of @nofathers_movie #nofathersinkashmir by India's yngest Oscar nom dirctor @ashvinkumar girl frm london meets boy frm Kashmir what a stunning pair these teens make - just can't wait to see it! Watch https://t.co/1kfagcZiF9

— Alia Bhatt (@aliaa08) March 15, 2019
No Fathers in Kashmir has newcomers Zara Webb and Shivan Raina take on the lead roles. The rest of the cast includes Ashvin Kumar, Soni Razdan, Anshuman Jha and Kulbhushan Kharbanda.