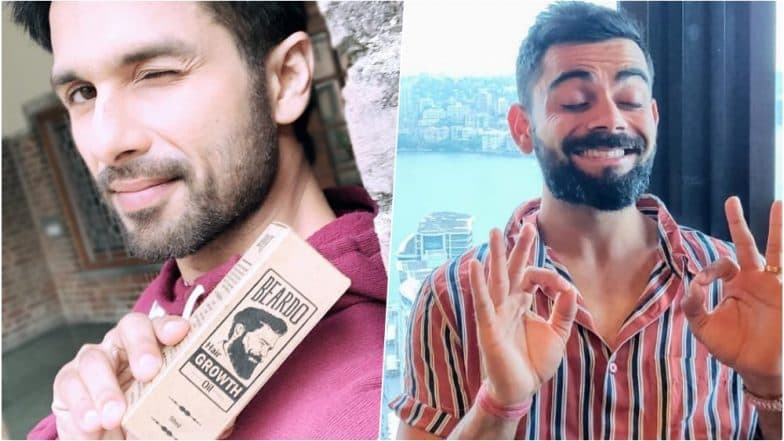 Be it actors or sportspersons, and everyone is an influencer on Instagram. At least, most of them. And as an influencer, they also have to endorse certain brands. This is what Bollywood actor Shahid Kapoor is doing in his latest Instagram post – promoting a beard hair growth oil by Beardo, a luxury grooming products brand for men. He looks quite hot in his stubble look from his upcoming film Kabir Singh. However, as I was scrolling through my Insta feed, I came across this adorable goofy pic of Virat Kohli that has his signature beard in full focus. And now I feel like posting this pic of Virat in the comments section under Shahid's Beardo ad post. Virat Kohli Is at His Goofiest Best With Anushka Sharma While Celebrating India's Win Down Under.
Here's what Shahid Kapoor Instagrammed about Beardo oil. The caption reads, "Sharp or scruffy, Beard is a must…Use Beardo's Growth oil for a faster regrowth like I do 😬 @beardo.official. Get yours from www.beardo.in #BeBeardo #SuchABeardo." And almost at the same time, there was this new photo posted by Indian cricket captain, Virat Kohli with the caption, "Bliss." Seeing his well-groomed, thick hair growth, we feel it should be Kohli and not Shahid who should be endorsing this brand. Not that we have anything against Shahid who is also one of the hottest Indian men to sported a sexy beard.
See Shahid Kapoor Endorsing a Beard Growth Oil
Here's What We Want to Post Under Shahid's Beardo Post - Virat Kohli at Bliss
View this post on Instagram
Beard or no beard, these two good-looking men continue to be heartthrobs even after their relationship statuses changed to married. In fact, their popularity has only soared. If Shahid with his wife Mira Rajput is a poster couple of arranged marriages, Virat and his actress wife, Anushka Sharma are an epitome of love-cum-arranged marriages.